A. Q. Franklin, educator and member of the House of Delegates (1889–1890). Franklin was born on March 20, 1852, in the city of Richmond and was the son of Benjamin Franklin, a bricklayer who had been a slave before purchasing his freedom. It is possible that his mother was a white woman and not Franklin's wife, Martha Franklin. According to family tradition, when Franklin was young, a white woman from the North taught him to read and write. She may have been his biological mother.
Franklin worked as a teacher but also farmed and held various political offices in order to support himself and his family. He won a special election in 1876 to become commissioner of revenue for Charles City County. Two years later the county treasurer accused him of negligence, but the county court determined that Franklin was not guilty of any misconduct requiring his dismissal. He left office when his term ended in 1879, but in May 1883 he was elected to a full four-year term. He won the subsequent five elections and served as commissioner of revenue until 1907.
He helped establish Bull Field Academy, a school for African Americans. In 1889 Franklin won election to the House of Delegates as a Republican, one of only three African Americans elected in 1889. They were the last black candidates to win election to the General Assembly until 1967. In 1908 he began raising funds for an African American high school (later Charles City County High School), which prompted the closure of Bull Field Academy in 1911. Franklin died at his home in Charles City County on June 8, 1924, from chronic myocarditis.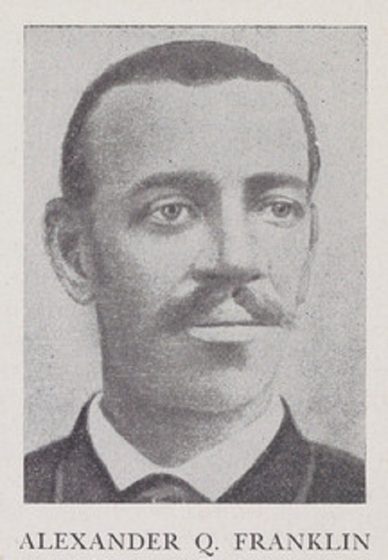 source:
https://www.encyclopediavirginia.org/Franklin_A_Q_1852-1924#start_entry