Queen Nanny was a Maroon leader and Obeah woman in Jamaica during the late 17th and early 18th centuries. The Maroons were a cultural mixed-race of African slaves and Native Arawak Indian tribes predated European colonization. Queen Nanny was an escaped slave who arrived from the Western part of Africa. It has been widely believed that Queen Nanny was a part of the Ashanti tribe of present-day Ghana.
Queen Nanny and her four brothers escaped from their plantations into the mountains and jungles that make up portions of present-day Jamaica. Queen Nanny and one of her brothers, Quao, founded a village in the Blue Mountains on the Eastern side of Jamaica, away from European settlers. The town became known as Nanny Town.
Under her supervision, she limited the amount of attacks against the European settlers and plantations. Instead, she preferred to trade and farm peacefully among neighbors. However, Queen Nanny did make numerous and successful raids, which freed many slaves. It is told that Queen Nanny's efforts helped to free almost 1,000 slaves during her time. She practiced the religion of West Africa and believed in folk magic.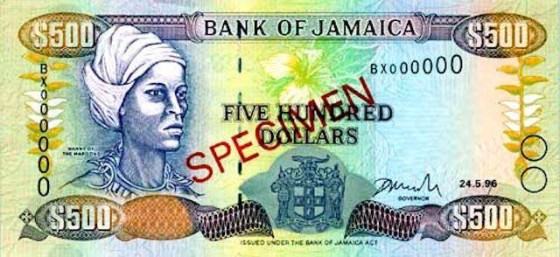 Nanny Town became a thriving community. The British colonial administration became embarrassed and threatened by the success the Maroons appeared to be acquiring. Plantation owners were losing slaves and having their property destroyed at times; they wanted the colonial authorities to do something about it.
William Cuffee, also known as Captain Sambo, is believed to have killed Queen Nanny in 1733. Cuffee killed Queen Nanny during one of the bloodiest wars of that time. The war lasted from 1720 until a truce was declared in 1739. After the death of Queen Nanny, many of the Maroons moved across the island on the other side to the inhabited Western part of Jamaica.
source:
http://jamaicans.com/queennanny/
http://www.blackpast.org/gah/queen-nanny-maroons-1733