Despite what many people think, living in a free state did not guarantee freedom for blacks. Even when freed blacks traveled with their freedom papers, they still had to be extremely cautious. Free blacks were often kidnapped and sold back into slavery.
Escaped slaves were usually forced back into captivity by strict slave laws. Most Northern states passed personal liberty laws that were to protect their black citizens, but the diversity of the laws among the states and the conflicting laws of state and federal governments often created a state of confusion and conflict. It was difficult to predict the outcome of a court case regarding the status of both free blacks and slaves.
The fear of being sold back into slavery shadowed free blacks everywhere. Since they were not allowed to testify on their own behalf, or to bear witness against white men in court, a black person once taken in tow by slave catchers or black kidnappers had an extremely small chance to escape. With no political power, black men exercised no control over laws or lawmakers. For the petty crimes, courts did not hesitate to give black men a harsh punishment, especially those living in the south. Nevertheless, free blacks were taxed equally with others. In some Northern states, although black residents paid school taxes, their children were not allowed to attend city schools.
In North Carolina, a "free" black boy was hanged for allegedly taking five dollars worth of candy from the home of a white lady. Legally, free blacks could be lashed as a form of punishment, and some courts even sentenced free blacks into slavery rather than putting them in jail. In some parts of the south, once a black person was declared free, they were no longer allowed back in the state.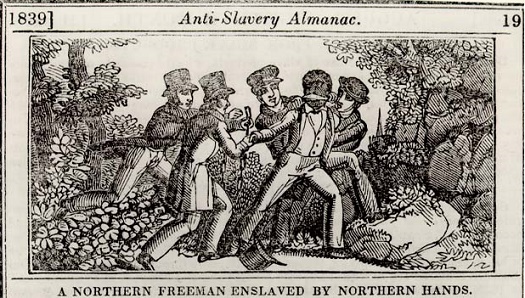 During the 1830s, there were anti-Black riots in a number of cities in New York. In 1834, a three-day reign of terror happened in Philadelphia and several homes burned to the ground. During this time, black men were being seized and beaten. Despite everything they were going through, it did not change the fact that black men kept striving to completely free.
source:
http://www.pbs.org/wnet/slavery/experience/legal/history2.html