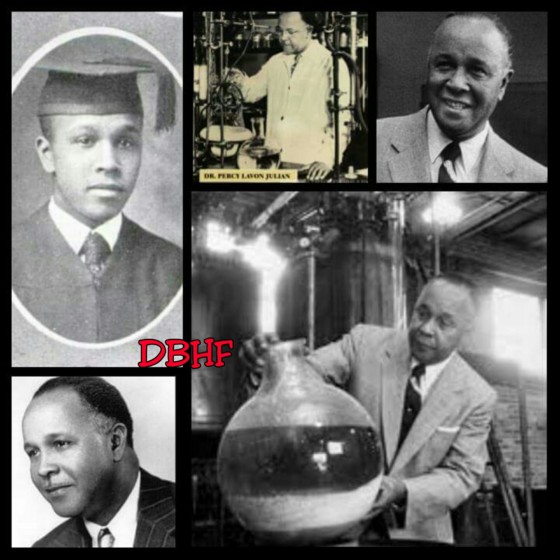 He was the 1st to synthesize the natural productphysostigmine, and a pioneer in the industrial large-scale chemical synthesis of the human hormones, steroids,progesterone, and testosterone, from plant sterols such asstigmasterol and sitosterol.
His work would lay the foundation for the steroid drug industry's production of cortisone, othercorticosteroids, and birth control pills.
He later started his own company to synthesize steroid intermediates from the Mexican wild yam. His work helped greatly reduce the cost of steroid intermediates to large multinational pharmaceutical companies, helping to significantly expand the use of several important drugs.
During his lifetime he received more than 130 chemical patents. Julian was one of the first African-Americans to receive a doctorate in chemistry.
He was the 1st African-American chemistinducted into the National Academy of Sciences, and the 2nd African-American scientist inducted from any field.
The Percy Lavon Julian family papers are archived at DePauw University.
EDUCATION BACKGROUND: Julian attended DePauw University in Greencastle, Indiana. The college accepted few African-American students. The segregated nature of the town forced social humiliations. Julian was not allowed to live in the college dormitories and first stayed in an off-campus boarding home, which refused to serve him meals. It took him days before Julian found an establishment where he could eat. He worked firing the furnace, as a waiter, and doing other odd jobs in a fraternity house. In return, he was allowed to sleep in the attic and eat at the house.
Julian graduated from DePauw in 1920 Phi Beta Kappa and valedictorian.
By 1930 Julian's father had moved the entire family to Greencastle, Indiana so that all his children could attend college at DePauw.
His father was still working as a railroad postal clerk.
Julian wanted to obtain his doctorate in chemistry, but learned it would be difficult for an African-American. After graduating from DePauw, Julian became a chemistry instructor at Fisk University. He then received an Austin Fellowship in Chemistry and went to Harvard University in 1923 for his M.S.
Worried that white students would resent being taught by an African-American, Harvard withdrew Julian's teaching assistantship. He was unable to complete his Ph.D. at Harvard.
In 1929, while an instructor at Howard University, Julian received a Rockefeller Foundation fellowship to continue his graduate work at the University of Vienna, where he earned his PhD in 1931. He studied under Ernst Späth and was considered an impressive student.
In Europe, he found freedom from the racial prejudices that had nearly stifled him in the States. He freely participated in intellectual social gatherings, went to the opera and found greater acceptance among his peers.
Julian was one of the 1st African-Americans to receive a PhD in chemistry, after St. Elmo Brady and Edward M. A. Chandler.
During Julian's lifetime he earned more than 138 chemical patents for his work. He was the 1st African-American chemist inducted into the National Academy of Sciences, and the second African-American scientist inducted from any field.
Read about his career and honors at: Daily Black History Facts