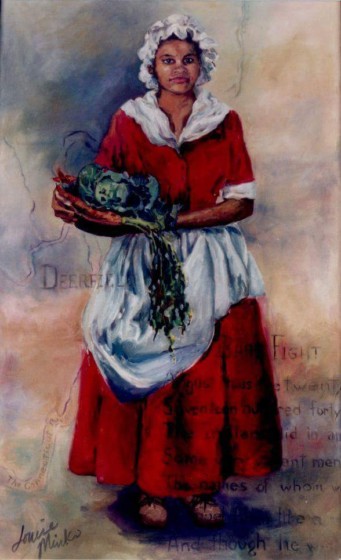 Lucy Terry, later Lucy Terry-Prince (c. 1730–1821) was kidnapped from Africa to Rhode Island as a infant and raised as a slave. At the age of 5, she was sold to and later owned by Ebenezer Wells of Deerfield, Massachusetts, who allowed the 5-year-old Terry to be baptized into the Christian faith during the Great Awakening.
At the age of 16, she composed a ballad, "Bars Fight", about a 1746 incident. It was preserved orally until being published in 1855. It is considered the oldest known work of literature by an African American
A successful free black man named Abijah Prince from Curacao purchased her freedom and married her in 1756. They were married by a justice of the peace Ephraim Williams, he was later the founder of Williams College in Williamstown, Massachusetts.
In 1764, the Princes settled in Guilford, Vermont, where all 6 of their children were born. Their names were Tatnai, Cesar, Drucilla, Durexa, Abijah, Jr and Festus. Cesar would later fightt in the Revolutionary War.
HER POETRY: Her work "Bars Fight" is a ballad about attack upon two white families by Native Americans on August 25, 1746. The attack occurred in an area of Deerfield called "The Bars", which was a colonial term for a meadow. It was finally published in 1855 in Josiah Gilbert Holland's History of Western Massachusetts.
This poem was the earliest existing poem of an African American, and is the only known work by Terry.
Read more about her life at: Daily Black History Facts