#Black people came together to help friends and families in need during the #great depression era. When it came to paying bills and keeping a roof over a family's head, black people got together and figured out a solution. One of those solutions was throwing #rent parties. Most black people today know about "rent parties" but might not know why they originated. These parties were big events and those who could not help with money found other ways to contribute. Some would either bring a covered dish, help with the entertainment, or help get the word out about the party.
The hosts of the gatherings would open up their apartment for a night and charge food to all those who attended. Guests enjoyed live music, dancing, and socializing. If someone wanted to eat they were charged extra. Many black people who lived in Harlem during the 1920s and 30s were often discriminated against. Most often black tenants were charged outrageous rent, threatened, and treated horribly by white owners. The average Harlem resident spent 40 percent of his or her income on rent-and if it wasn't paid by Sunday, the landlord put the furniture on the street on Monday morning. Not only were they discriminated against by landlords, but on the job as well. Tenants often were in situations where they came up short on the rent.
The parties reduced pressure off many black families and individuals. Parties were usually given on Saturday nights and Thursday nights (when domestics had the evening off), but one could usually find a rent party any night of the week. The public paid admission, ranging from a dime to a half- dollar, to be admitted into a parlor dimly lit with red lights.
Advertisements used for the parties often came as cards that named the type of entertainment using lyrics from popular songs. Langston Hughes noted that rent parties disappeared after the Depression but returned during the postwar era. However, he also recalled that those parties postwar were not as fun as the previous parties.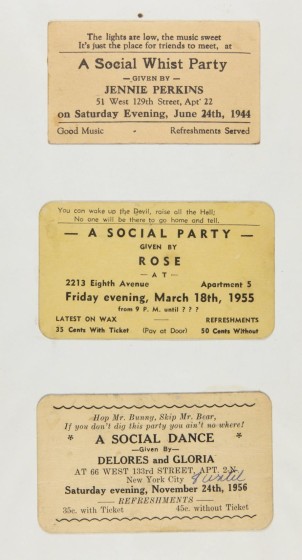 source:
http://www.chicoer.com/article/NA/20150124/FEATURES/150129819