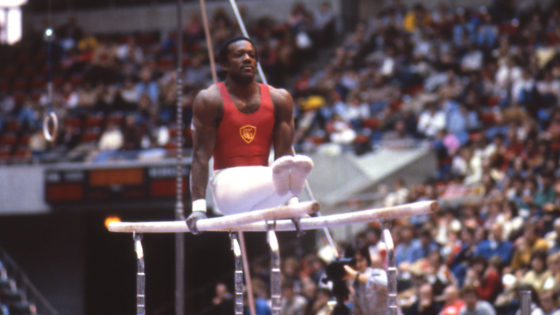 Ron Galimore is considered by many to be the first African-American male gymnast. He was also the first athlete in NCAA history to score a perfect "10" in an event.
Galimore was born on March 7, 1959, in Tallahassee, Florida. His father was Willie Galimore, a running back for the Chicago Bears who was also known for his competitiveness. Unfortunately, his father was killed in a car accident when Galimore was seven years of age.
Galimore began his NCAA career at Louisiana State University, then transferred to Iowa State University. He graduated with a Bachelor of Arts in Speech.
He was a 12-time All-American and was named Athlete of the Year in 1981. Gailmore was a member of the U.S. Men's National Team from 1977 to 81.
In 1980, Galimore became the first African-American to earn a spot on a U.S. Olympic gymnastics team. Although he was close to making history, his dreams were quickly squelched. There was so much talk about the boycott, and during that time, Galimore realized he was not going to be able to go.
Galimore was the founder and athletic director of the Ron Galimore Athlete Training Center in Tallahassee, Florida, from 1985 to 1994. He was also a project manager for Marketing and Financial Management, a firm that specialized in sports marketing.
Ron Galimore currently works with U.S.A. Gymnastics as the chief operating officer. He has been selected to be inducted into the U.S.A. Gymnastics Hall of Fame.
sources:
https://usagym.org/pages/post.html?PostID=9528&prog=h
http://www.desmoinesregister.com/story/sports/columnists/bryce-miller/2014/08/19/ron-galimore-usa-gymnastics-1980-olympics-moscow/14305439/