Rubin Stacy was a homeless tenant farmer living in Florida. He was down on his luck and hungry when he approached the home of Marion Jones to ask for some food. But he was met with the screams and shrieks when Mrs. Jones answered the door. Jones' family rushed to the sound of hearing the screams and grabbed and subdued Stacy. Jones claimed that Stacy had assaulted her with a knife. Stacy was turned over to the Dade County deputies.
While Stacy was being transported to jail by six Dade County deputies, a group of masked men overpowered the group and kidnapped him. It was later revealed that the kidnapping was merely a ruse; Chief Deputy Bob Clark and other deputies had staged the kidnapping so that the mob could take possession of their prisoner.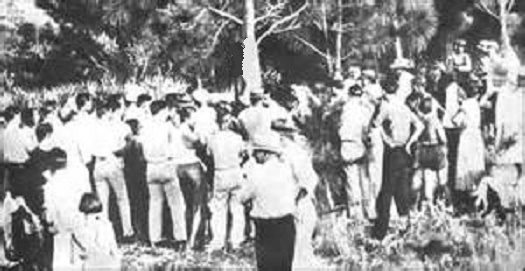 The mob took Stacy to the home of Marion Jones and lynched him from a nearby tree. It was also reported that Deputy Clark passed his service revolver around and let the mob fire shots at the hanging body.
Although Rubin's murder galvanized anti-lynching activists, President Franklin D. Roosevelt was not in support of the federal anti-lynching bill. Roosevelt feared that support would cost him Southern votes in the 1936 election. He believed that he could accomplish more for more people by getting re-elected.
In 1939, Roosevelt created the Civil Rights Section of the Justice Department. Although it established prosecutions to combat lynching, it failed to win any convictions until 1946.
source:
http://spartacus-educational.com/USACstacy.htm