Salem Poor was a distinguished military hero during the American Revolutionary War. He is best remembered today for his actions during the Battle of Bunker Hill on June 17, 1775.
Although Poor was born into slavery, he was able to purchase his freedom by the age of 19. He married a free Black woman named Nancy, with whom he had a son.
In May of 1775, Poor enlisted in the Continental Army. He served in a Massachusetts Militia company commanded by Benjamin Ames. Some 5,000 other black men, both free and enslaved, served on the side of the "Patriot" Revolutionary Army, in addition to hundreds more in the Navy.
Poor distinguished himself at the Battle of Bunker Hill, then known as the Battle of Charleston, on June 17, 1775. He fired the shot that killed Lieutenant Colonel James Abercrombie, a high-ranking British officer. Abercrombie's death crippled the morale of the enemy force, which gradually turned the tide of battle. Poor also fought at Valley Forge, White Plains, Saratoga, and Monmouth.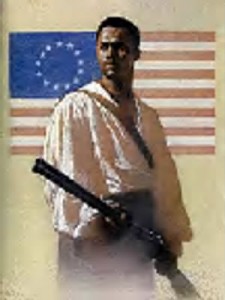 He later married his second wife, Mary Twing, a free African-American. The couple moved to Providence, Rhode Island; however, they were ordered to leave that city, presumably because they could not support themselves.
In 1785, he placed an advertisement in the Boston Gazette to disown Mary's debts and "forewarn all Persons from trusting MARY, the Wife of the Subscriber." In 1787, Poor married Sarah Stevens, a white woman, and in 1793 he spent several weeks in the Boston Almshouse. He was briefly jailed for a "breach of peace" in 1799, married for the fourth and final time in 1801, and died in 1802.
In acknowledgment of his exceptional service to the cause of liberty, 14 officers, including Colonel William Prescott, petitioned the General Court of Massachusetts to honor his efforts and bestow a monetary reward in recognition of his achievements. Salem Poor was honored in 1975 with his image on the 10-cent stamp
source:
http://blackhistorynow.com/salem-poor/