Sam Lacy was best-known as the voice of hopes and dreams of Black athletes and fans across the United States. He was a pioneer in the field of sports reporting.
Lacy was born on October 23, 1903 to Samuel Erskine Lacy and Rose Lacy, a full-blooded Shinnecock Native American. Lacy's family moved to Washington, D.C. when he was a young boy. He developed da love for baseball, and often spent his spare time at the Griffith Stadium, home ballpark for the Washington Senators. Lacy would spend time running errands for the players and chasing down balls during practice.
As a young boy Lacy witnessed the mistreatment of his family as they stood and watched the annual Senators' team parade through the streets of Washington. Lacy later told the story of what occurred:
"Fans like my father would line up for hours to watch their heroes pass by. And so there he was, age 79, out there cheering with the rest of them, calling all the players by name, just happy to be there. And then it happened. One of the white players—I won't say which one—just gave him this nasty look and, as he passed by, spat right in his face. Right in that nice old man's face. That hurt my father terribly. And you know, as big a fan as he had been, he never went to another game as long as he lived, which was seven more years. Oh, we've come a long way since then. But we've still got a long way to go."
During Lacy's teenage years he worked for the Senators as a food vendor, he sold peanuts and popcorn in the stadium's segregated Jim Crow section. Lacy also caddied for British golfer Long Jim Barnes at the 1921 U.S. Open, held at nearby Columbia Country Club. When Barnes won the tournament, he gave Lacy a $200 tip.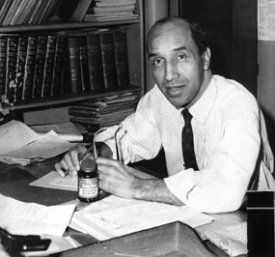 Lacy went on to graduate from Armstrong Technical High School in Washington, where he played basketball, baseball, and football. He later enrolled at Howard University where he earned a bachelor's degree in physical education; he thought he might later pursue a coaching career.
While in college, Lacy began covering sports part-time for the Washington Tribune, a local African-American newspaper. He continued writing for the paper following his graduation, and also worked as a sports commentator for radio stations WOL and WINX in the early 1930s.
In October 1937, Lacy broke his first major story when he reported the true racial origins of multi-sport athlete Wilmeth Sidat-Singh. Syracuse University had claimed Sidat-Singh was of Hindu and Indian heritage, when in truth his widowed mother had remarried, to an Indian doctor. Prior to a football game against the University of Maryland, Lacy revealed Sidat-Singh had been born to black parents in Washington, D.C., and trumpeted the news as a sign the color barrier at segregated Maryland was about to fall. When Maryland officials refused to play the game unless Sidat-Singh was barred from the field, Syracuse removed him from the team and lost the match 13-0.
Lacy moved to Chicago in the 1940s, there he began to work for the Chicago Defender, where he served as its assistant national editor. Lacy returned east and from 1968 to 1976 he worked as a sports commentator for WBAL-TV. Lacy remained with the Baltimore Afro-American for nearly 60 years, and became widely known for his regular "A to Z" columns and his continued championing of racial equity. The onset of arthritis in his hands in his late 70s left him unable to type, so he wrote his columns out longhand.
In 1999, Lacy teamed with colleague Moses J. Newson, a former executive editor at the Afro-American, to write his autobiography, Fighting for Fairness: The Life Story of Hall of Fame Sportswriter Sam Lacy.  Sam Lacy died in 2003 at the age of 99.
source: