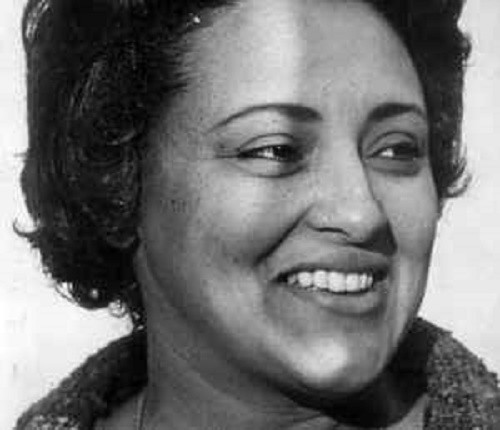 Sarah Webster Fabio was an influential scholar, poet, and performer. Fabio was a poet, teacher, and scholar of black literature; the author of numerous collections of poetry; editor of several anthologies on black and women's literature; and a performer: she recorded four albums of her poetry on Folkways Records in the 1970s. She is often credited with helping to build a West Coast presence for the Black Arts Movement and to establish black studies as an academic discipline. She has even been called the "mother of black studies."
Fabio was born Sarah Webster in Nashville, Tennessee, in 1928. She was an exceptional student, graduating from high school at age 15. She wrote poetry as a teenager and studied English literature in college, first at Spelman College in Atlanta and then at Fisk University in Nashville, graduating at 18.
She married Cyril Fabio, a dental student who later graduated from the historically Black Meharry Medical College. She then changed her surname to Fabio. Upon her husband's graduation from dental school, he enlisted in the military, which greatly delayed Fabio's graduate education. When they were stationed in Nashville, Fabio enrolled in graduate school; but then her husband was deployed to Germany and Fabio was forced to delay her studies yet again.
In 1963 Fabio attended San Francisco State College, where she earned her masters degree in Language Arts (with a focus on poetry). She graduated in 1965 and got a job teaching at Meritt College in Oakland, California. Meritt college was well known as a hot-bed of Black activist activity during the Civil Rights era. Students at the time included Maulana Karenga, Bobby Seale and Huey Newton.
Fabio's poetry quickly became associated with the Black Arts Movement through her work in establishing Black Arts departments throughout the West Coast, thereby identifying a Black aesthetics. Fabio died in 1979.
source:
https://www.poetryfoundation.org/poets/sarah-webster-fabio