Although shotgun houses exists throughout America, these residences are most prominent in the south.  The houses are designed as a one-story narrow rectangular domestic residence, about one room wide and three or more rooms in length, with rooms arranged one after the other.  The reason the homes are called "shotgun" is because a person can allegedly shoot a shotgun through the front door and straight out the back door without hitting a wall.
African refugees from Haiti who arrived in Charleston, South Carolina brought with them the general design for the shotgun house. Soon, many of the homes began appearing throughout the southern countryside, as they were popular with low-income families. Although the look of the houses transformed as people moved from rural to urban parts of the country, one thing that remained consistent was the grouping of the houses in a row.
The oldest shotgun houses were built without indoor plumbing, which was often added later to back of the residence. "Double-barrel" or "double" shotgun houses consist of two houses sharing a central wall, which allowed more residences to be placed within a neighborhood.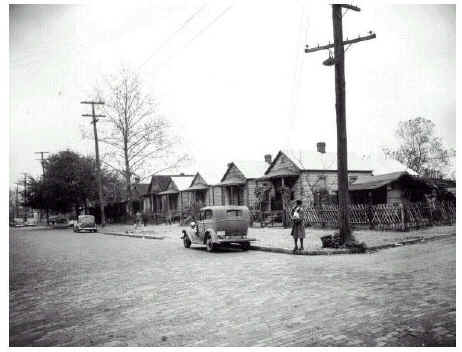 Tennessee courts would only allow shotgun houses to be rented to the very poor class tenants during 1929. After the Great Depression, there were fewer shotgun homes being built, and the ones that did exist began deteriorating. From World War II until the 1980s, these residences were viewed as symbols of poverty. By the late 20th century, shotgun houses in many areas were being restored for other purposes. In some areas with a large concentration of these houses, property value is quite high, which is leading to gentrification.
The shotgun house plays a role in the folklore and culture of the south. Superstition holds that ghosts and spirits are attracted to shotgun houses because they may pass straight through them, and many of the homes were built with doors that were misaligned on purpose to keep the "traveling spirits out."
source:
http://www.jaxhistory.org/portfolio-items/shotgun-houses/
http://www.nola.com/homegarden/index.ssf/2014/02/shotgun_geography_new_orleans.html