No one could shout the Blues quite like Joseph Vernon Turner. The acclaimed musician was known as "The Boss of the Blues," and "Big Joe Turner," mainly because of his size, as he stood 6'2″ and weighed over 300 pounds. Turner had his greatest fame during the 1950s with his rock and roll recordings, especially the hit "Shake, Rattle and Roll."
Turner was born in Kansas City in 1911. Like many African American children, Turner discovered his love for music in church. However, in order to make money with his art, he began singing on the street corners, which ultimately led to drop out of school at the age of 14 to regularly perform in nightclubs.
Turner first worked in a nightclub as a bartender where he became known as "The Singing Barman." He worked in clubs such as the Kingfish Club and The Sunset. The Sunset, which featured "separate but equal" facilities for white and black patron, was managed by Piney Brown. Turner wrote "Piney Brown Blues" in his honor and sang it throughout his entire musical career.
Nightclubs were subject to raids during that time. Every time there was a raid, the bondsmen would reach the police station before Turner and others arrived at the station. The men would sign their names, walk back out, and sing until morning.
Turner later joined forces with pianist Pete Johnson. In 1936, they traveled to New York City in 1936 to play with Benny Goodman. After the show with Goodman, the duo had several unsuccessful auditions, so they returned to Kansas City. Once the influential talent scout, John H. Hammond, worked with the pair, the men went back to New York and appeared in "From Spirituals to Swing" at Carnegie Hall. Their success at Carnegie Hall led to the success of their hit, " Roll 'Em Pete's."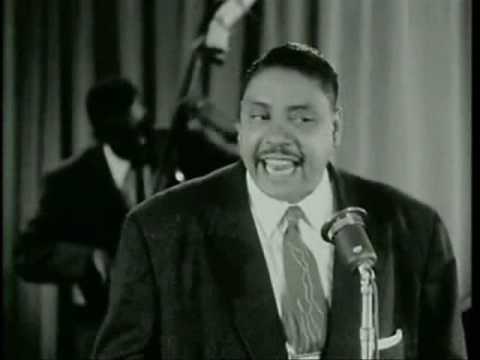 Turner's big success came during 1954 with the massive success of "Shake, Rattle and Roll." Not only did the hit turn him into a teenage favorite, it also transformed popular music and is still enjoyed to this day. He later was honored with the Esquire magazine award for male vocalist in 1945, the Melody Maker award for best new vocalist in 1956, and the British Jazz Journal award as a top male singer during 1965.
Turner died in Inglewood, California, in 1985 at the age of 73. Two prior to his death, he was inducted into the Blues Hall of Fame. In 1987, he was posthumously inducted into the Rock and Roll Hall of Fame.
source:
http://www.allmusic.com/artist/big-joe-turner-mn0000060726