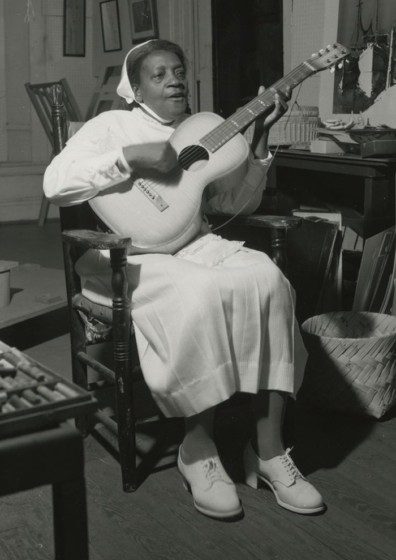 Sister Gertrude Morgan was a self-taught African-American artist, musician, poet, and preacher. Born in LaFayette, Alabama, she relocated to New Orleans in 1939, where she lived and worked until her death in 1980.
Sister Morgan was born Gertrude Williams in Lafayette, Alabama to mother Frances "Fannie" Williams and father Edward Williams; she was the seventh child.
For reasons unknown, she left school before completing the third grade. After her family relocated to Georgia, Sister Morgan worked as a servant and nursemaid in a private home.
Her marriage in 1928 was to Will Morgan, although there is no evidence of divorce, it is known she left Columbus alone in 1938, traveling to Alabama and then to New Orleans where she settled.
The first of many revelations that Sister Gertrude was to experience came in 1934. The story of this revelation is inscribed on one of her paintings. On it she wrote, "Sitting in my Kitchen one night I heard a great strong Voice speak to me said I'll make thee as a signet for I have chosen thee I got this calling on the 30th day of Dec in 1934 I had to answer to my calling and one day give up and Pack up and go … a chosen vessel of God's wonderful to Be. God called me a chased me and turned me into the hands of his son and JESUS said to take up your cross and follow me."
She received another revelation from God urging her to paint. She understood the act of painting as a tool to be used in her service to the Lord, just as she used music in her street preaching. Sister Morgan also used her early paintings as visual aids in her sermons and teachings, often with children. She later described hearing a voice that told her she was the Bride of Christ. Sister Morgan then discarded her black missionary attire in favor of an all-white ensemble made up of a nurses' uniform, peaked nurses' cap and matching white shoes. Sister Morgan died in her sleep  on July 8, 1980.
Sources:
http://www.crt.state.la.us/louisiana-state-museum/collections/visual-art/artists/sister-gertrude-morgan
http://www.tfaoi.com/aa/5aa/5aa94b.htm