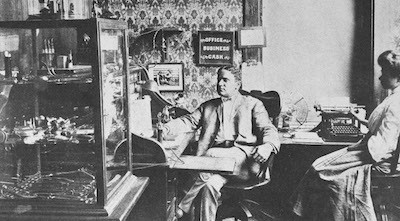 Sumner Alexander Furniss was a prominent physician and surgeon. He was the first African American to become a member of the staff at Indianapolis City Hospital in Indiana. He was also a founding member and president of the Indianapolis Young Men's Colored Association (YMCA).
Furniss was born to William H. Furniss and Mary Elizabeth J. Williams, in Jackson, Mississippi, on January 30, 1874. His family moved to Indianapolis when he was young, and his father became the superintendent of the Special Delivery Department of the Indianapolis Post Office.
He received his early education in the local city schools and then enrolled in Lincoln University (formerly the Lincoln Institute). Just before his graduation in 1891, Furniss enrolled in the Medical College of Indiana and received his medical degree in 1894, ranking second in a class of fifty-two. Furniss was the only African American in his class. While in medical school, he worked as a clerk for Dr. E. S. Elder, a prominent Indianapolis physician, to pay for his education.
After competing in a rigorous exam given to fourteen selected candidates from across the country, Furniss served as an intern at the Indianapolis City Hospital and became the first African American professional to serve at the hospital. He then opened a general practice that continued for the next fifty years.
In 1909, Furniss founded the first African American hospital in Indianapolis—Lincoln Hospital—where he served as chief surgeon until its closing in 1915. He served as state vice-president of the predominantly black National Medical Association. He was a founder of Iota Lambda Chapter of Alpha Phi Alpha Fraternity and remained active until his death. Sumner Alexander Furniss died on January 18, 1953.
source:
http://www.blackpast.org/aah/sumner-alexander-furniss-1874-1953