In 2015, a ten-page manuscript was recovered and donated to the African-American History Museum. The manuscript gives an account of The Tulsa Race Riot and three of its victims. Presented on yellow legal paper, typewritten, and folded in thirds, the words come from an eyewitness of what took place on May 31, 1921, in Tulsa, Oklahoma, when "Black Wall Street was brutally attacked.
Allison Keyes reported part of the manuscript for Smithsonian.com, detailing one of the most damaging race riots of the time:
I could see planes circling in mid-air. They grew in number and hummed, darted and dipped low. I could hear something like hail falling upon the top of my office building. Down East Archer, I saw the old Mid-Way hotel on fire, burning from its top, and then another and another and another building began to burn from their top," wrote Buck Colbert Franklin (1879-1960).
The manuscript also tells of Buck Franklin's encounters with a black veteran, Mr. Ross, in 1917. Franklin met Ross while recruiting young black men to fight in World War I. The story picks up in 1921 with his own eyewitness account of the Tulsa race riots, and ends ten years later with the story of how Mr. Ross's life had been destroyed by the riots.
During that time, Tulsa's black citizens were in denial about the potential for extreme cruelty that local white people possessed. Some blacks didn't believe that they were hated enough to be bombed and attacked with machine guns. "The issue was economics." Franklin explained that Native Americans and African-Americans became wealthy thanks to the discovery of oil in the early 1900s on what people thought to as worthless land. The people throughout the city began to prosper opening and operating their own businesses. Greenwood soon became known as the "Black Wall Street."
The Tulsa race riot was a large-scale, racially-motivated conflict on May 31 and June 1, 1921, during which a group of whites attacked the local, prosperous black community. The Greenwood District, the wealthiest black community in the United States, was burned to the ground out of hatred, jealousy, and racism. Over the course of 16 hours, more than 800 people were admitted to local white hospitals with injuries, the two black hospitals were burned down, and police arrested and detained more than 6,000 black Greenwood residents at three local facilities.
In response to the riot attacks, the governor declared martial law, called in the National Guard, and arrested all surviving black residents who weren't already imprisoned, jailing them for as long as eight days. Rioting continued throughout the summer of 1921, as several lynchings occurred during the south and all in attempt to oppress black Americans — destroying some of their wealthiest neighborhoods, like Black Wall Street.
Greenwood was able to be rebuilt. However, had it not been for Buck Franklin, who fought his way to the Oklahoma Supreme Court to defeat a law that attempted to prevent blacks from rebuilding the community, it never would have occurred. By 1925, there was again a thriving black business district.
>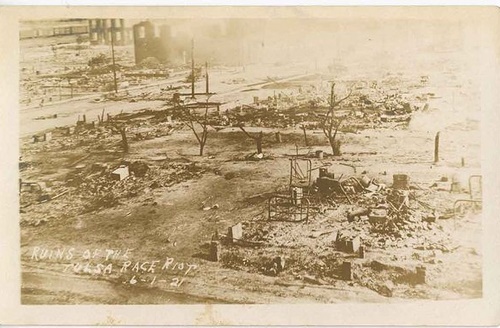 sources:
Original article found at:
http://www.smithsonianmag.com/ist/?next=/smithsonian-institution/long-lost-manuscript-contains-searing-eyewitness-account-tulsa-race-massacre-1921-180959251/
http://www.vox.com/2016/6/1/11827994/tulsa-race-massacre-black-wall-street