Long before The Obamas became the first Black presidential family, the original Black residents of 1600 Pennsylvania have been all but forgotten. That is, until Associated Press reporter Jesse J. Holland set out to uncover the history behind the slaves of the White House. While covering President Barack Obama's first presidential campaign, Holland realized that the stories of the first Black inhabitants had yet to be told:
"We had always talked about the history of Obama possibly becoming the first black president of the United States, but I knew Obama couldn't have been the first black man to live in the White House," Holland told The Smithsonian Magazine. "Washington, D.C. is a southern city and almost all mansions in the South were constructed and run by African Americans. So I said to myself, I want to know who these African American slaves were who lived in the White House."
As only a couple of White House slaves ever had written anything, Holland needed to read between the lines of various presidential memoirs in order to create one coherent story. During his research, Holland was surprised at the way in which the presidents referred to their slaves: "servants," "staff," "employees." Oddly enough, the word "slaves" was never reportedly used by any president during that time.  Once Holland discovered this vital fact, he realized the information he needed was more readily available than he had previously thought. Nevertheless, he states that many stories have been lost simply because the United States did not value the accounts of slaves.
Holland believes that learning about the details of the presidents' relationships with their slaves will give readers a greater insight into the lives of the men who ran the nation.
"This helps us understand presidents' policies when it came to slavery and race relations at this time," he explained. "If they said something publicly but did something else privately, it gives us insight into who they are."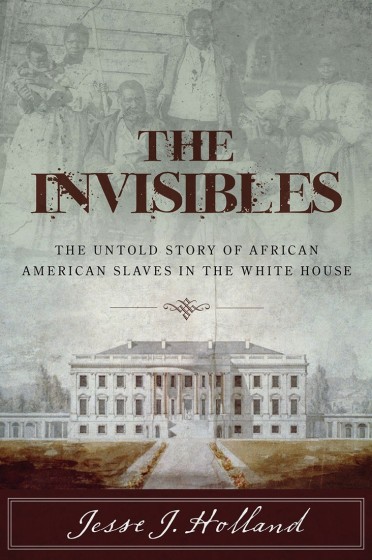 The following is an excerpt detailing part of the relationship that Thomas Jefferson had with one of his slaves, Joseph Fossett.
 Joseph Fossett was not allowed to see his wife once Jefferson took her away from Monticello and to the nation's capital. This led to a confrontation with Jefferson, and the only arrest of an escaped slave on White House grounds.

     Edy was pregnant with the first of her ten children when she arrived at the White House, one of three children she would bear while in the executive mansion. Only two would survive, however, leading to the belief that Edy and her children were ill during part of her stay in Washington. It would take word of something like that to make her husband, Joseph, do what he did.

     Fossett was foreman of the Monticello blacksmith shop, a prestigious job on the plantation, and as a Hemings, he led a much more charmed life than most of the other plantation slaves. But word reached Monticello that Edy or their child, who was reaching its second birthday in 1808, was sick.

     Either Fossett asked for permission to come to Washington and was denied by Jefferson (a likely scenario, because records show the child had whooping cough and Jefferson likely did not want the contagious disease taken back to his plantation by an anxious father) or Fossett simply didn't ask. Either way, one day Fossett abandoned the blacksmith shop and disappeared, much to the consternation of the Monticello foreman and apparently Jefferson.

     Jefferson knew where Fossett had gone, however. In a July 31 letter to Joseph Dougherty, his Washington agent, Jefferson described Fossett as a "young mulatto man . . . 26 years of age, who ran away from here the night of the 29th." To Jefferson, Fossett had no reason to run, saying he left "without the least word of difference with anybody, and indeed having never in his life received a blow from any one."

     Like many southern slave owners, Jefferson did not formally acknowledge slave marriages, but he knew about the slave relationships among his people.

     "We know he has taken the road towards Washington,"Jefferson said. "He may possibly trump up some story to be taken care of at the President's House till he can make up his mind which way to go, or perhaps he may make himself known to Edy only, as he was formerly associated with her."

     On August 3, 1806, Fossett was arrested on the White House lawn, having made the 120-mile journey in four days. He was caught sneaking out of the White House after spending the night there with Edy. "I took him immediately & brot. him to Mr. Perry & has him now in jail. Mr. Perry will start with him tomorrow for Monticello," Dougherty reported to Jefferson.

     Fossett was jailed in a nearby prison for a few days, and then sent back to Monticello, where he would have to wait two years before seeing his wife again at the end of the Jefferson presidency.
For more information about The Invisibles, check out Jesse J. Holland.
Source:
http://www.smithsonianmag.com/history/The-Slaves-of-the-White-House-Finally-Get-to-Have-Their-Stories-Told-180957917/?no-ist