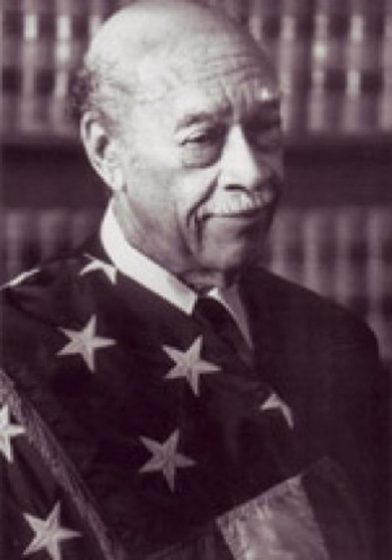 Theodore McMillian was one of the first African-Americans admitted to Saint Louis University School of Law. He graduated first in his class in 1949.
McMillian was born in St. Louis, he was educated at Lincoln University in Jefferson City (B.S., 1941) and Saint Louis University School of Law (J.D., 1949).
After completing his studies, he served as assistant circuit attorney, St. Louis City, 1953–1956, and circuit judge, St. Louis City, 1956-1972. He was a faculty member at University of Missouri-St. Louis, the National College of State Judiciary, University of Nevada, Reno, and a lecturer at Saint Louis University School of Law. He served as board chairperson, Human Development Corporation, local CAP agency; Minority Economic Development Agency; Herbert Hoover's Boys Club of St. Louis; board member, American Judicature Society; Blue Cross Hospital Association; and Urban League.
He was the first African-American to serve on the Court in Missouri. Retained in 1974. He resigned from the Missouri Court of Appeals in 1978 to accept an appointment to the United States Court of Appeals for the Eighth Circuit. Judge McMillian served on the Eighth Circuit in active status until July 1, 2003, when he took senior status. He continued to serve on the court as senior judge until 2006, when he died in St. Louis.
source:
https://en.wikipedia.org/wiki/Theodore_McMillian