Olympic gold medalist John Baxter Taylor started training to be a winner at a very young age. He ultimately became the first African American to win an Olympic Gold Medal in 1908.
Taylor was born November 3, 1882, in Washington, D.C. After his family moved to Philadelphia, Taylor attended Central High School, where he was captain of the track team. After completing high school in 1902, he attended Brown Preparatory School for a year; he ran track for the school and the team was undefeated.
By the fall of 1903, Taylor decided to enroll into the University of Pennsylvania at the Wharton School of Finance. He joined the varsity track team in the spring of 1904. In May 1904, at the Intercollegiate Association of Amateur Athletes of America (IC4A) championship, Taylor won the 440-yard run, breaking the intercollegiate record with a time of 49.2 seconds. In 1905, Taylor withdrew from school, returning in the fall in the School of Veterinary Medicine. Taylor returned to track in 1906 under trainer Michael Murphy.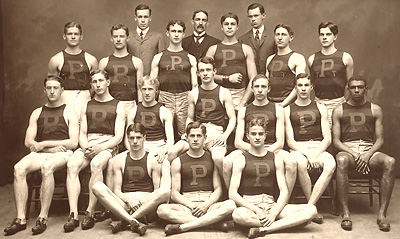 In 1907, at the IC4A championship, Taylor won the 440-yard race with a record of 48.8 seconds. He later won the 440-yard race at the Amateur Athletic Union (AAU) championship. Throughout this period, Taylor was running despite having a hernia. He won his third-quarter mile championship and anchored the one-mile relay. Taylor graduated from the University of Pennsylvania with a degree from the School of Veterinary Medicine.
In 1908, John Taylor was the first African-American to represent the United States in an international sports competition. He competed in the 1600-meter medley relay. However, the race competition was not without controversy. Officials believed that during the run, someone fouled one of the British runners. So, the Americans refused to run again in the race.
The 1908 Olympics was the first time athletes competed in this race that required various runners to run different lengths. Later that same day, Taylor ran the third leg, which was 400 meters. The American team won the race, and Taylor became the first African-American to win a gold medal at the Olympic Games.
John Taylor died in 1908 at the age of 26 from typhoid pneumonia and was buried in Eden Cemetery in Philadelphia. He earned forty-five cups and seventy medals during his brief track career.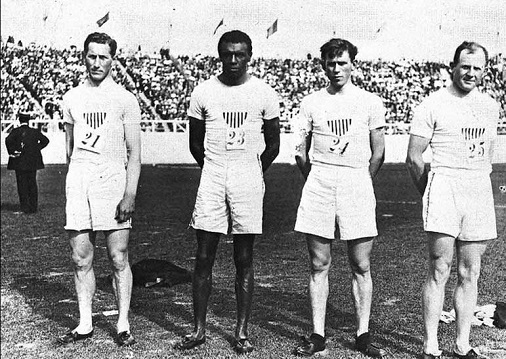 sources:
http://www.archives.upenn.edu/people/1800s/taylorjb.html
http://afroamhistory.about.com/od/biographies/a/John-Baxter-Taylor-First-African-American-Gold-Medalist.htm