In 1865, the Union army and naval forces engaged in a successful attempt to capture Fort Fisher and take Wilmington, North Carolina, which was the South's last blockade-running port. There were numerous United States Colored Troops who took part in the fight. Former slaves and free blacks served under white officers.
Though casualty figures for the colored units were very low as most were only involved in the campaign's final stages, many soldiers faced a determined enemy and potential execution if they were captured. Confederate officers in captivity were often asked whether they had killed black prisoners. Most of them replied that if the blacks were free men, they would be allowed to live, but if they were former slaves and were identified as such, they were killed.
Although the fall of Fort Fisher and the loss of Wilmington did not end the American Civil War, it quickened its conclusion. Approximately 90 days after the capture of Fort Fisher and the closing of Wilmington, General Lee and his Army in Northern Virginia, unable to maintain their position around Petersburg due to lack of supplies, was compelled to surrender to General Grant and the Army of the Potomac on April 9, 1865.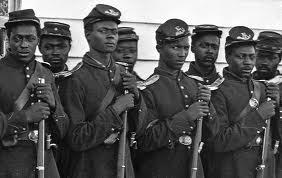 source:
http://civilwarexperience.ncdcr.gov/fisher/narrative-fisher5.htm