Vernon Eulion Jordan, Jr. is an American business executive, attorney, and civil rights activist. A leading figure in the Civil Rights Movement, he was chosen by President Bill Clinton as a close adviser. Jordan has become known as an influential figure in American politics.
Born in Georgia to Mary and Vernon E. Jordan, Sr., he grew up with his family in a segregated Atlanta. He was an honors graduate of David Tobias Howard High School, but was rejected for a summer intern's job with an insurance company because of his race after his sophomore year in college. During a few summers, he worked as a chauffeur to former city mayor Robert Maddox and a banker. He later graduated from DePauw University in Greencastle, Indiana, in 1957.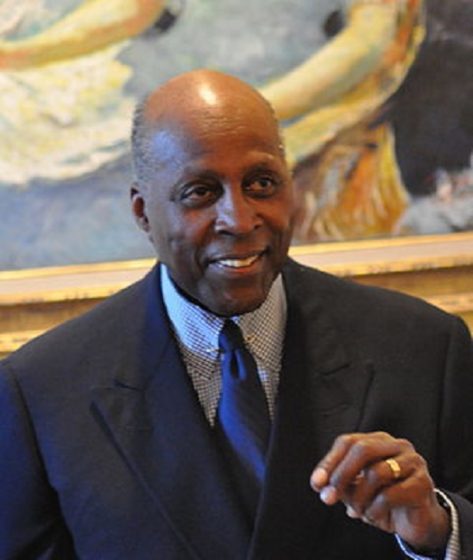 Jordan returned to Atlanta to join the law office of Donald L. Hollowell, a civil rights activist. The firm, which included Constance Motley, sued the University of Georgia for racial discrimination in its admission policies. The suit ended in 1961 with a Federal Court order demanding the admission of two African Americans, Charlayne Hunter, and Hamilton E. Holmes. Jordan personally escorted Hunter past a group of angry white protesters to the university admissions office.
In 1970, Jordan became executive director of the United Negro College Fund. He was president of the National Urban League from 1971 to 1981. He later joined the Ronald Reagan administration in 1981.
On May 29, 1980, Jordan was shot and seriously wounded outside the Marriott Inn in Fort Wayne, Indiana. He was accompanied by Martha Coleman at the time. Police thought initially that it might have been a domestic incident related to Coleman's life. Then-president Jimmy Carter visited Jordan while he was recovering, an event that became the first story covered by the news network, CNN.
In 1982, Joseph Paul Franklin was acquitted of charges of attempted murder. However, in 1996, after having been convicted of murder in another case, Franklin admitted to having committed the shooting.
Jordan worked with and assisted Monica Lewinsky in 1998, a former White House intern after she left the White House due to the scandal involving President Clinton. Jordan's claim for reimbursement for legal services related to assisting Clinton in scandals was rejected, as he requested to be paid $302,719, but only received $1,215. In 2001, Jordan published his memoir, Vernon Can Read!
sources:
http://www.biography.com/people/vernon-jordan-jr-9358120
https://en.wikipedia.org/wiki/Vernon_Jordan