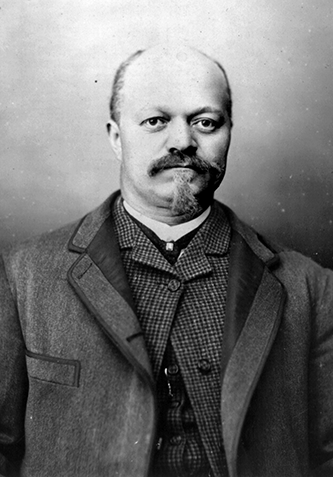 Warren Clay Coleman was a manufacturer who became one of the richest African Americans in the south.
Coleman was the illegitimate son of Rufus Clay Barringer, a Confederate general, and Roxanna Coleman, a slave owned by Daniel Coleman, Sr., of Concord. When slaves married, it was generally accepted that the man's master would purchase the woman; contrary to this usual practice, Roxanna's husband became a slave on the Coleman estate, and the black family was maintained there as a unit.
Barringer was the descendant of French Huguenots who migrated from France during the early seventeenth century to England and Germany.
Coleman's first twenty-one years were consumed by a dull routine of slavery and farm work that constrained his highly motivated personality. During the Civil War, he worked for the Confederacy, making boots and shoes. With emancipation, he was bound to William M. Coleman, a Cabarrus planter-lawyer who later became North Carolina's attorney general. Young Warren was educated and trained by Coleman until Mar. 28, 1870, when he was released.
Warren went to Alabama for a year, seeking economic opportunity. He returned to Concord in 1871 and began his business career, starting as a collector of rags, bones, and junk and becoming one of Concord's richest merchants. From 1873 to 1874 he attended Howard University as a student in the Model School, preparing himself for business opportunities.
Coleman's first business was a combination barber shop and cake and candy store. Under his father's guidance, he bought land in the black areas of Concord and erected cheap frame rental houses. Between 1875 and 1904 he developed nearly one hundred rentals; he purchased four farms and a substantial number of city lots, thereby becoming one of Cabarrus County's largest property owners and most influential citizens.
In 1875, Coleman married Jane E. Jones. In 1879, he combined his two shops into a large general store that became one of Concord's major retail establishments. A proud and frugal man who sought wealth and fame, he extended his influence into North Carolina's black community. He was a member of the North Carolina Industrial Association, an African-American group seeking to develop African-American-owned businesses.
By 1895, Coleman was considered one of the South's richest African-Americans. He helped found the National Negro Protective Association and assisted African-American education at Howard University, Livingstone College, and Shaw University.
source:
https://www.ncpedia.org/biography/coleman-warren-clay