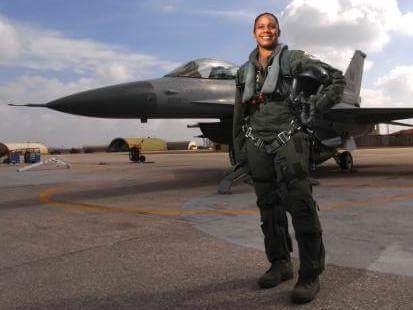 Shawna R. Kimbrell, 555th FS. She is the 1st African-American female fighter pilot in the Air Force.
Born in 1976, the Parker, Colorado native had dreams of being an astronaut, but decided it would be more fun to fly a fighter jet.
"I fell in love with the idea of the freedom of flying and after my first flight lesson at age 14, I never looked back. I am still amazed that in this day and age there is still so much room for firsts especially for females and for African-Americans. It is an important step for progression and although I am not fond of the spotlight I think it is important for people to know that this barrier has been breeched. Especially for the African-American community and for women to know what types of opportunities are available to them."–Major Kimbrell
Up until only 22 years ago, piloting a multi-million dollar, multi-role F-16 combat aircraft was reserved solely for men. Then, in 1993, the secretary of defense permitted women to enter fighter pilot training. Although women have been entering pilot training since 1976, before 1993, government officials did not believe women had "what it took" for combat.
Major Kimbrell knew she "had what it took" and after graduating from the Air Force Academy in 1998 and went on to complete intense pilot training receiving her pilot wings in August, 1999.
Eager to make it as a fighter pilot in a field with a limited number of pilot slots Major Kimbrell pushed herself to constantly improve.
There are more than 14,000 pilots in the U.S. Air Force — about 3,700 of those are fighter pilots. But in that group, only 70 are women.
Pursuing a career in a male-dominated field was just one of several challenges Major Kimbrell had to overcome.
Another challenge Major Kimbrell faced throughout her career and growing up was the struggle of being an African-American woman, who at times was viewed as being different than other people.
"There are still a lot of unresolved racial issues in the U.S. and they spill over into every walk of life and every workspace," said Major Kimbrell, the only female pilot stationed at Aviano Air Base.
"When I go somewhere new, people tend to look at me differently, mostly because of who I am and it is the subtle ways that people treat me differently that make it challenging. The unfortunate fact is that being a black woman is a constant struggle."
Major Kimbrell has flown the F-16, T-38, T-37 and T-3 and has logged more than 945 flying hours in the F-16, including 176 combat hours.
Her military decorations include:
🛩Air Medal with one device
🛩Aerial Achievement Medal
🛩Air Force Commendation Medal with one device
🛩Army Commendation Medal
🛩National Defense Service Medal
🛩Armed Forces Expeditionary Medal
🛩Iraq Campaign Medal
🛩Global War on Terrorism Service Medal
🛩Korean Defense Service Medal