William Karnet "Bill" Willis was an football defensive lineman who played eight seasons for the Cleveland Browns in the All-America Football Conference (AAFC) and the National Football League (NFL). Willis was known for his quickness and strength despite his small stature, he quickly gained the reputation for being one of the most dominant defensive football players of the 1940s and early 1950s.
Willis was born in Columbus, Ohio the son of Clement and Williana "Anna" Willis. His father died of pneumonia shortly after Willis birth, and he was raised by his grandfather and mother amid the financial hardships of the Great Depression. He attended Columbus East High School where he ran track and played football.
Willis joined the Cleveland Browns professional football team in 1946. He played both offense and defense until 1953. He also appeared in the first three Pro Bowl games in 1950, 1951, and 1952.  Willis  was named an All-Pro in every season of his career and reached the NFL's Pro Bowl in three of the four seasons he played in the league.
In 1977, Willis was inducted into the Pro Football Hall of Fame. He was also named to the NFL's 1940s All-Decade Team by members of the Hall of Fame selection committee.  He retired from the game in 1954 to focus on helping troubled youth, first as Cleveland's assistant recreation commissioner and later as the chairman of the Ohio Youth Commission. He remained in that position until his death in 2007.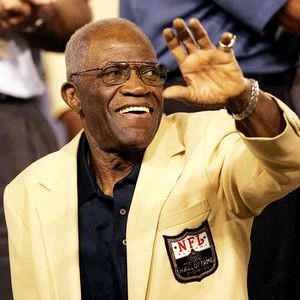 sources:
http://www.profootballhof.com/players/bill-willis/