Commander Handsome Thamsanqa Matsane was sworn in as the first black officer to assume Command of  South African  Navy's Type 209 submarine, SAS Queen Modjadji on 26 April 2012. Commander Matsane enlisted to the South African Navy in 1998 and completed his Military Training for Officers Part 1 in December 1998. He went on to complete his Bachelor in Military Science through the University of Stellenbosch at the Military Academy in Saldanha and since has completed all military courses required to assume the command of the naval submarine.
Prior to his command, Matsane served as Executive Officer aboard SAS Charlotte Maxeke, the SAS Isandlwana, and SAS Spioenkop before transferring to the submarine squadron. Matsane grew up in Bushbuckridge in Mpumalanga province, far from the sea, and named his grandmother, the venerable Betty Mashabane, as his personal heroine and inspiration.
Matsane's performance was good enough to catch the eye of the Chilean navy, and he was invited to serve for four months aboard the controversial tall ship BE Esmeralda, a training vessel for junior officers, on her journey around the world.
One of the many challenges for officers aboard a submarine was the strenuous training and little-to-no sleep in a 48-hour period. This was one challenge Commander Matsane had to overcome after switching to the squadron. He not only excelled, but he climbed the ranks to Commander and made South African history. Commander Handsome Thamsanqu MatsaneMatsane still wants more women to join the navy. "We have women still in training but in total, there are only some 15 women in the submarine squadron. We need lots more South Africans, both men, and women, to join up."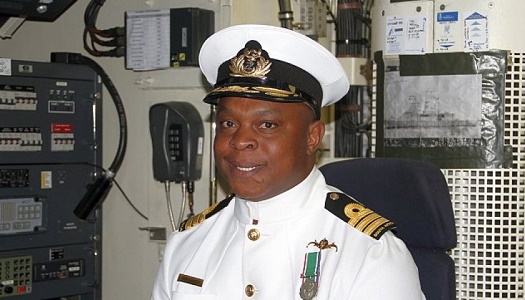 source:
http://www.defenceweb.co.za/index.php?option=com_content&view=article&id=25232:first-black-officer-takes-command-of-sa-submarine&catid=51:Sea&Itemid=106