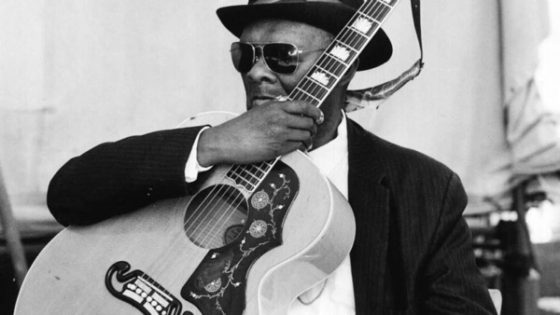 Gary Davis was a well-known blind singer and guitarist on the streets of North Carolina. As a young man, he joined the steady stream of rural blacks who moved into the industrial town of Greenville, S.C, where he played with a string band with six or eight pieces, which also included another blind from birth guitarist.
Davis became blind while still an infant. He was treated poorly by his mother and his father later placed him in the care of his paternal grandmother. Davis reported that when he was 10 years old his father was killed in Birmingham, Alabama.
Davis attended the South Carolina School for the Blind, in Cedar Springs, Spartanburg; there he taught music although he never learned to read it. He spent two years in Asheville, N.C., where he was led by banjo player and guitarist, Arron Washington.
Davis arrived in Durham, NC around 1926, and lived in the area of the tobacco factories of Hayti, his mother was also living in the area and an uncle.
While a resident of Durham his influence on other bluesmen became really marked.
Davis taught Blind Boy Fuller and collaborated with a number of other artists in the Piedmont blues scene, including Bull City Red.  In 1935, J. B. Long, a store manager with a reputation for supporting local artists, introduced Davis, Fuller, and Red to the American Record Company. The subsequent recording sessions (available on his Complete Early Recordings) marked the real beginning of Davis's career. Davis was also an ordained as a minister, and began to prefer inspirational gospel music.
The blues scene in Durham began to decline around the early 1940s, and Davis moved to New York. In 1951, he recorded an oral history for the folklorist Elizabeth Lyttleton Harold (the wife of Alan Lomax) who transcribed their conversations in a typescript more than 300 pages long.
Davis died of a heart attack in May 1972, in Hammonton, New Jersey.
source:
https://en.wikipedia.org/wiki/Reverend_Gary_Davis