If you are like many people, you enjoy some soul food from time to time. You might also find it interesting to know that just like the "Queen of Soul," there was the "Queen of Soul Food." Before Pattie Labelle was baking sweet potato pies in her kitchen, Sylvia Woods was hard at work cooking for the people of Harlem.
Best known for her restaurant "Sylvia's," Woods was born on February 2, 1926, in Hemingway, South Carolina. She was raised by her mother and grandmother after the death of her father at just three days old.
She attended beauty school while still in junior high and later earned her beautician license. Woods moved to New York City, and it was not too long before her childhood sweetheart, Herbert, followed and the two married in 1944.
While living in Harlem, Sylvia grew tired of her job at a factory in Brooklyn. She found another job working at Johnson's Luncheonette in Central Harlem. Years later, Woods was offered the opportunity to purchase the establishment from its owner. With substantial financial help from her mother, who had to mortgage her farm to assist, Woods and her husband bought the restaurant for $20,000. In 1962, Woods changed the name of the business to "Sylvia's."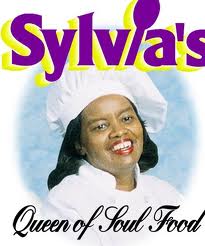 Sylvia's became a highly recognized restaurant in Harlem. Many famous people have dined at this historic establishment, such as Bill Clinton, Caroline Kennedy, Nelson Mandela, Al Sharpton, Jesse Jackson, Magic Johnson, and Barack Obama.
Over the years, the business expanded to include Sylvia's Catering Hall, Sylvia's Catering Corp., Sylvia's Food Products, two cookbooks, a children's book, beauty and skin care products, and ATOC, Inc., a Harlem real estate company. Woods and her business endeavors have been the recipient of numerous honors and accolades, including the Merit Award from Mayor Bloomberg, various honors from a range of political figures, and an invitation to the White House during the Clintons' last Christmas.
In 2001, The Woods family demonstrated their commitment to uplifting the local community by creating the Sylvia and Herbert Woods Scholarship Endowment Foundation. The foundation distributes 4-year partial scholarships to children throughout the Harlem community. According to her official website, Sylvia's philosophy was "each one teach, teach one and remember to love and be kind, and the response you receive in return will be priceless."
sources:
http://www.sylviassoulfood.com/about.html
http://www.greenvilleonline.com/story/life/2015/02/01/sylvia-woods-queen-soul-food/22669891/