William Clarence Matthews was born the third oldest child to William Matthews, a tailor, and Elizabeth Matthews in Selma, Alabama on January 7, 1877. After the death of his father in the 1890s, he moved with his family moved to Montgomery, Alabama.
Matthews enrolled at the Tuskegee Institute from 1893 until 1897 where he graduated second in his class. He was a standout athlete (organizing the first football team and being the captain of the baseball team). After completing his studies, he became the first head football coach for the Tuskegee University Golden Tigers and he held that position for two seasons, from 1893 until 1895 (there was no team in 1894). His coaching record at Tuskegee was 0 wins, 2 losses, and 0 ties. Matthews also played on at least one of the teams he coached, serving as the captain.
The tryouts for the Harvard Baseball team had over 140 people for only 12 spots, and Matthews was one of the first ones selected for the team. His joining the team caused some controversy, as one of a few African-American baseball.
On July 4, 1905, Matthews became the starting second baseman for the Burlington, Vermont team in the Northern League. Taking the field that day in a doubleheader against a team from Rutland. Matthews became the only African-American playing in white professional baseball leagues at the time. He played well the entire season with the Burlington team taking second place, narrowly missing first place.
In 1908, Matthews passed the bar exam. He married to Pamela Belle Lloyd from Hayneville, Alabama in 1908. He took a position coaching Boston high school baseball teams for a few years during this period to put himself through law school. However, Matthews eventually replaced his mentor at Harvard William Henry Lewis as the Assistant U.S. Attorney for the Boston area. From 1920 to 1923, Matthews became the chief legal counsel for the Marcus Garvy founded Universal Negro Improvement Association and African Communities League.
During the 1924 Presidential election, Matthews became an important supporter of the Republican Party and Calvin Coolidge. After Coolidge won, Matthews moved to Washington, D.C. and became an Assistant Attorney General. Matthews died on April 9, 1928 (51 years old) of a perforated ulcer.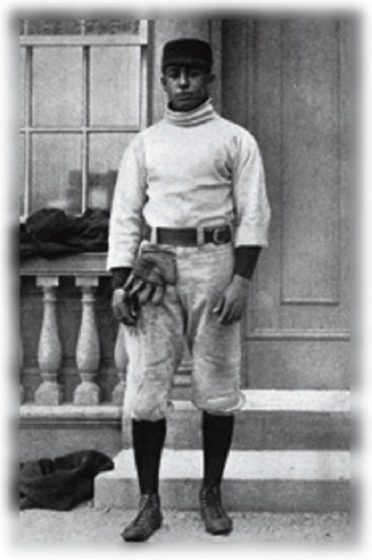 source:
http://sites.middlebury.edu/karllindholm/files/2015/09/Black-Matty.pdf
https://en.wikipedia.org/wiki/William_Clarence_Matthews