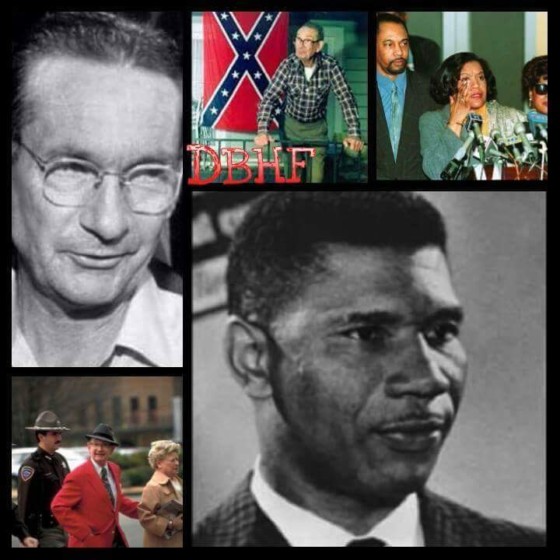 Byron De La Beckwith is convicted of the 1963 murder of civil rights leader Medgar Evers.
Byron De La Beckwith was white supremacist and Klansman from Greenwood, Mississippi, who in 1994 was convicted in the state trial of assassinating the civil rights leader Medgar Evers on June 12, 1963.
Two previous trials in 1964 on this charge had resulted in hung juries.
1994 TRIAL: In the 1980s, the reporting by the Jackson Clarion Ledger of the Beckwith trials stimulated a new investigation by the state and ultimately a third prosecution, based on new evidence. By this point, De La Beckwith was living in Signal Mountain, Tennessee, and he was extradited to Mississippi for his trial at the Hinds County Courthouse in Jackson.
The 1994 state trial was held before a jury consisting of eight black and four white jurors; it ended with De La Beckwith's conviction of first-degree murder for killing Medgar Evers. New evidence included testimony that he had boasted of the murder at a Klan rally and that he had also boasted of the murder to others during the three decades since the Crime had occurred. The physical evidence was essentially the same evidence that was used during the first two trials.
He appealed the guilty verdict, but the Mississippi Supreme Court upheld the conviction in 1997. The court said that the 31-year lapse between the murder and De La Beckwith's conviction did not deny him a fair trial. He was sentenced to life imprisonment without the possibility of parole for first-degree murder.
Although Mississippi had a death penalty in 1963, it was unenforceable because it and other death penalty laws in force at the time had been declared unconstitutional by the United States Supreme Court in the case of Furman v. Georgia. Beckwith sought review in the United States Supreme Court, but that Court denied certiorari.
On January 21, 2001, De La Beckwith died at the University of Mississippi Medical Center in Jackson, Mississippi. He was 80 years old. He had suffered from heart disease, high blood pressure and other ailments.
Read more stories like this at: Daily Black History Facts