Canada Lee wore many hats during his professional career as a boxer, musician, and well-respected actor. Despite racial barriers, Lee went on to become one of the leading actors in stage productions of Orson Welles and for the Federal Theater Project.
Lee was born "Leonard Lionel Cornelius Canegata" on March 3, 1907, in New York City. His family migrated to New York from the Caribbean island of St. Croix. Lee exhibited musical talent at a very young age, as he performed in several concerts as a violin player. In his early teens, he ran away from home because he wanted to become a jockey. However, as he was too large to ride horses, he ultimately turned to boxing.
He began his boxing career in 1926. His new name, Canada Lee, arose after an announcer pronounced his last name incorrectly. Lee fought and lost to world champions Jack Britton, Tommy Freeman, and Lou Brouillard. Lee boxed a ten-round draw with middleweight champion Vince Dundee in 1928. In 1930, after a going a few rounds with Willie Garafola, a blow to his right eye detached his retina. Lee's sight was impaired, and he quit boxing in 1933.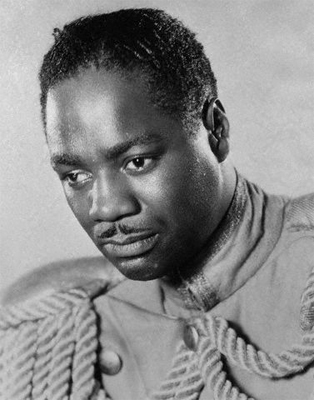 While working as a laborer at a YMCA, Lee stumbled upon his acting career and secured several roles. He earned a supporting role in Frank H. Wilson's 1934 production of "Brother Mose," which was played to a crowd of 10,000 in Central Park. Lee also appeared on Broadway in the Theatre Union's revival of "Stevedore" in 1934. He also performed as banquo in Macbeth, which was sold out for ten weeks at the Lafayette Theater.
As an actor, Lee got to know many influential leaders throughout the country. Langston Hughes wrote two plays for Lee, but the plays were never staged due to influence of racism in the acting world. By the late 1940s, the influence of anti-communism had made many of his earlier contacts dangerous from a political standpoint. In 1949, the trade journal Variety stated that "under no circumstances" could Lee be used in American Tobacco's televised production of a radio play because he was "too controversial." The same year, the FBI offered to clear Lee's name if he would publicly call Paul Robeson a communist, but Lee refused to implicate his friend.
Hollywood began blacklisting certain actors, but Lee was still able to find roles as African ministers. Lee had his first heart attack while filming and was never able to fully recover. He soon was unable to get work because he was blacklisted in Hollywood as well.
Lee died of a heart attack at the age of 45 on May 9, 1952.
source:
http://canadalee.org/about.htm
http://www.canadaleedoc.com/legacy.html