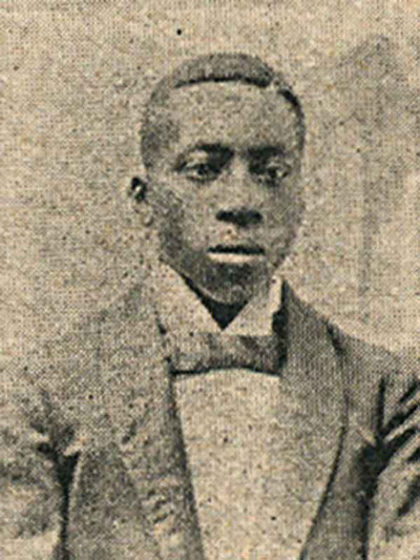 Arthur Marshall was a ragtime musician. He was also a friend and writing partner to Scott Joplin.
Marshall was born on a farm in Saline County, Missouri, on November 20, 1881. He moved with his family to Sedalia where he lived with the Marshall family.
He learned a great deal about ragtime music from Joplin, and attended grade school and Lincoln High School in Sedalia with another of Joplin's students, Scott Hayden. After studying music theory at George R. Smith College in Sedalia with Joplin, Marshall majored in education and earned a teaching license.
Joplin, Hayden, and Marshall became extremely close, wrote music together, and honed their piano skills playing in local nightclubs like the Black 400 Club and the Maple Leaf Club. Between 1900 and 1902, Arthur toured the country playing piano and marching with cymbals in parades with McCabe's Minstrels, leaving after he had saved up a tidy sum of money.
Marshall worked in St. Louis for the next six years until 1916. After his second wife's death, he fell ill and developed a twitch in his hand that hampered his ability to play the piano. He physically recovered, remarried, and relocated to Kansas City, Missouri, but stopped playing piano professionally.
Marshall co-wrote two ragtime songs with Joplin: Swipesy Cake Walk (1900) and The Lily Queen. In 1950 Marshall recorded his first ragtime records, including three songs written between 1907 and 1908: Silver Arrow, National Prize Rag,and Missouri Romp. He died in Kansas City, on August 18, 1968.
sources:
https://shsmo.org/historicmissourians/name/m/marshall/