David Abner Jr. became the first African American to graduate from a Texas institution of higher learning when he received his degree from Bishop College in 1881.
Abner was born in Upshur County, Texas, on November 25, 1860, the son of David Abner, Sr. After attending public schools and studying classics at Straight University in New Orleans, Louisiana, he went to Fisk University in Nashville, Tennessee, in 1877. While he was at the university, one of his compositions in Greek was placed on display at the Nashville exposition.
He enrolled at Bishop College in 1881, where he graduated in 1884, becoming the first African American to graduate from a Texas school of higher education. He then became a professor at the school. He was a delegate to the National Convention of Colored men (part of the Colored Conventions Movement) in September 1883, in 1884 he became the corresponding secretary of the Baptist State Convention of Texas. He also edited the conventions paper, known as the Baptist Journal and later as the Baptist Pilot.
In 1884, Guadalupe College was founded, primarily through the efforts of William B. Ball, who would later serve as president. The school opened in 1887, and Abner was made the first president of the school, a position he served until 1905. David Abner Jr., died on July 21, 1928, in Harris County, Texas.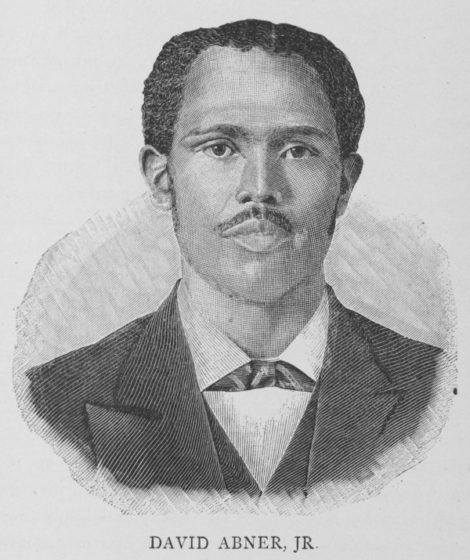 source:
https://tshaonline.org/handbook/online/articles/fab09