Ernestine "Tiny" Davis was a renowned jazz trumpeter and vocalist. Davis grew up in Memphis, Tennessee, to George and Leanna Carroll and was one of six children. She eventually moved to Kansas City, which was a jazz hotspot during that time. She played in nightclubs for "two dollars a night" and listened to other musicians around town. During the mid-1930s, Davis toured with the Harlem Playgirls.
In 1941, Davis became a part of the International Sweethearts of Rhythm band. The group included Anna Mae Winburn, who prior to joining the group had been singing with and directing an all-male orchestra, singer and trumpeter Ernestine "Tiny" Davis, and alto saxophonist Roz Cron. Davis was nicknamed "Tiny" because of her large size. She became the main attraction of the group along with her singing and playing the trumpet with the group. Davis remained with the group for nearly a decade.
The group was unique because it was a racially integrated group, as members were Black, Indian, Latina, white, and Puerto Rican. The all-women group came together and created music that more than held its own during the Swing Era. Louis Armstrong became fascinated and impressed with Davis and tried to lure her away from the International Sweethearts of Rhythm. He even offered her ten times her salary, but she declined the offer.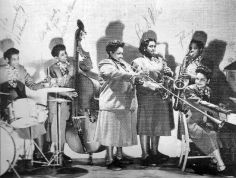 The International Sweethearts of Rhythm continued to tour. The Jubilee Sessions, originally recorded for radio broadcasts aimed toward America's black soldiers serving during 1943 to 1946, provided a rare opportunity to hear these women play. The Sweethearts did not get as much exposure to mainstream audiences in the South as the all-white, male big bands of their day because of their racial make-up and the violent racism in the region. When the band toured in the Deep South, the white band members painted their faces dark so that the police would not remove them from the bandstand and arrest them.
Tiny Davis and her partner Ruby Lucas also owned Tiny and Ruby's Gay Spot in Chicago during the 1950s. Davis died in 1994.
sources:
http://www.thehistorypostblog.co.uk/tag/ernestine-tiny-davis/
http://aaregistry.org/historic_events/view/woman-serious-swing-ernestine-davis
http://myiwbc.org/ernestine-tiny-davis/