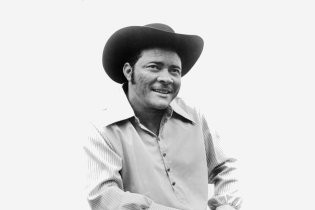 Stoney Edwards was an American country singer. He was one of the first black singers to have a significant presence in country music. He is best known for the song, "She's My Rock."
Stoney Edwards was born Frenchie Edwards on December 24, 1929 in rural Seminole County, Oklahoma. He was one of the youngest of seven children born to Rescue Edwards, a farmer from North Carolina and his wife, Ollie Edwards.
As a young child, Edwards dreamed of some day being able to perform at the Grand Ole Opry. After growing up and moving away to raise his family in San Francisco, Edwards played music in his spare time, while working as a forklift operator in a steel refinery. However, Edwards suffered a traumatic experience after a job-related accident occurred that trapped him in a sealed-up tank where he suffered carbon dioxide poisoning. He spent the next two years in and out of a medically induced coma.
After Edward's condition improved, he found work doing odd jobs which gave him time to devote to music. He sang in a honky tank style, reminiscent of Lefty Frizzell and Merle Haggard. In 1970, while performing at a benefit for his hero, Bob Wills in Oakland, California, Stoney was spotted by a local attorney, Ray Sweeney.
In 1971, Edwards signed with Capitol records and released his first album. Asleep at the Wheel backed him at the beginning of his career. He had fifteen chart singles for Capitol, including two Top Twenty hits, "She's My Rock" and "Mississippi You're On My Mind." His song "Blackbird (Hold Your Head High)" caused some controversy and banishment from a few radio stations. Many stations would not play, "Blackbird (Hold Your Head High)" because it contained the line "just a couple of country niggers" despite the song's affirmative message. After he made five albums, the company dropped him in 1977.  By the early 1980s, both his health and his career began to decline. He died on April 5, 1997.
sources:
http://www.musicianguide.com/biographies/1608004566/stoney-edwards.html
http://www.thefullwiki.org/Stoney_Edwards