Philip Parris Lynott—best known as Phil Lynott—was the lead singer and bassist of the Irish hard rock and later heavy metal band Thin Lizzy.  Lynott was born August 20, 1949 in Staffordshire, England. His mother Philomena Lynott was born in Ireland while his father Cecil Parris was born in British Guiana—now Guyana.
EARLY MUSIC CAREER
Young Lynott grew up in Dublin, Ireland and it was here that he was introduced to music from the U.S. during the late 1950s and early 1960s. His initial inspirations were folk rock and Motown. During his time at Christian Brothers School, he would meet his friend and future Thin Lizzy drummer Brian Downey. Prior to that, he formed the cover band the Black Eagles in 1965.
Drifting through a variety of bands at the time, he found his strengths early as not just a vocalist but a front man. His most significant band before forming Thin Lizzy was as a singer for the psychedelic rock band Skid Row. Lynott was dropped as lead singer for singing off key but the lead singer/bassist and his best friend Brendan Shiels sold him a bass guitar and taught him to play.
BECOMING A FRONTMAN
Following his departure from Skid Row, Phil Lynott and Brian Downey formed a band named Orphanage which did covers of Bob Dylan and Jeff Beck. Lynott took up rhythm guitar and lead vocals while still learning bass guitar.
With Lynott having a grasp of bass guitar and meeting guitarist Eric Bell and keyboard player Eric Wrixon, Orphanage became Thin Lizzy. Lacking stage presence, Lynott was planning to leave the band around 1972 to join a new band guitar virtuoso Ritchie Blackmore was forming. Lynott didn't fully find himself as frontman until late 1972.
Thin Lizzy would tour with popular British band Slade—known for the hit song Cum On Feel the Noize, which became an even larger hit in 1983 when covered by Quiet Riot. It was during this tour that he put his trademark mirror on his bass.
It was when he was confronted by Slade's manager over his lack of appeal. The threat of canning Thin Lizzy saw Lynott turn things around and connect more with the audience at shows.
Also important during the time was Thin Lizzy coming together as a cohesive band. Early on they did a mix of folk rock and rock n roll. By the middle of the 1970s they floated more into hard rock territory. Phil Lynott had become a stronger singer and bass player and the band was one of a few pioneers of the lead dueling guitars style in the UK.
The approach would become a regular part of pre-New Wave of British Heavy Metal band Judas Priest.
SUCCESS AND THE END OF LYNOTT-ERA THIN LIZZY
Phil Lynott and Thin Lizzy continued plugging along. Prior to 1976, they only had one hit with an Irish folk song in "Whiskey in the Jar" which they fashioned into a rock tune. In 1976 they struck gold with the album Jailbreak which featured the hit "The Boys Are Back in Town."
This lead to the band rocking the late 70s with its quartet of power albums including Johnny the Fox, Bad Reputation, and Black Rose: A Rock Legend between 1976 and 1979. A live album—Live and Dangerous—contributed to this success as well. The late 1970s saw Lynott work with other musicians and bands including a friendship Motorhead frontman Lemmy Kilmister who passed in 2015 and members of punk band the Sex Pistols.
The 1980s proved a rough time for Thin Lizzy and Phil Lynott because of his drug use. Lynott did a solo album in 1980—Solo in Soho—which did well. In 1981 the band released Renegade which didn't catch on but showed the band flirting with the emerging heavy metal sound in the song "Angel of Death."
By 1983, Lynott's heroin use became a problem and the band released it's final album Thunder and Lightning, which saw the band enter full on heavy metal territory and a more aggressive Thin Lizzy.
FINAL YEARS
Following the first end of Thin Lizzy, Phil Lynott worked on solo material and continued working with other musical acts. His solo career was going well around this time as well. Unfortunately, his drug use was reaching iits peak. Eventually, Phil Lynott passed away January 4, 1986, at the age of 36 because of heart failure. He had just been admitted to drug rehab following an incident on Christmas.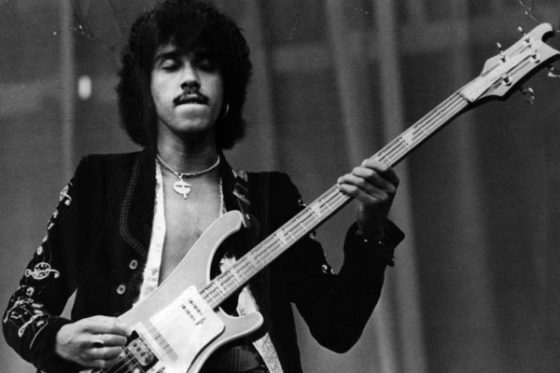 SOURCE
-http://news.bbc.co.uk/onthisday/hi/dates/stories/january/4/newsid_4041000/4041511.stm
-http://www.irishtimes.com/culture/music/phil-lynott-30-years-after-his-death-1.2476442
-http://www.thinlizzy.org/phil.html
RECOMMEND PERFORMANCES
-Dancing In The Moonlight (with Thin Lizzy): https://www.youtube.com/watch?v=P1tQwF410qw
-Jailbreak (with Thin Lizzy): https://www.youtube.com/watch?v=gqSzDJGFCgI
-Cold Sweat (with Thin Lizzy): https://www.youtube.com/watch?v=jIvBpe7q1Cg
-Angel of Death (with Thin Lizzy): https://www.youtube.com/watch?v=6BVjsx_YriI