Jazz singer and entertainer Adelaide Louise Hall had a career that spanned more than 70 years until her death. A major icon during the Harlem Renaissance, she entered into the Guinness Book of World Records in 2003 as the world's most enduring recording artist having released material over eight consecutive decades.
Hall was born in Brooklyn, New York, on October 20, 1901, to Elizabeth and Arthur William Hall. She began performing in 1921 on Broadway in the chorus line of Nobel Sissle's and Eubie Blake's musical "Shuffle Along." She married in 1924 to a British sailor, Bertram Errol Hicks. Hicks became Hall's manager and opened a short-lived club in Harlem, "The Big Apple."
In 1926, Hall appeared in the short-lived Broadway musical, "My Magnolia," and soon after she appeared in Tan "Town Topics" with a score written by Fats Waller. In 1927, Hall recorded her wordless vocals on "Creole Love Call" with Duke Ellington and his orchestra, as well as songs "The Blues I Love To Sing" and "Chicago Stomp Down," which became worldwide hits. Hall was the first female vocalist to sing and record with Duke Ellington.
Hall became a musical icon during the Harlem Renaissance. She performed with major artists such as Ethel Waters, Josephine Baker, Louis Armstrong, Lena Horne, and Cab Calloway. In the 1930s, she went on several tours and throughout North America, South America, and Europe.
In 1938, she had reached such a level career success in both America and Europe that she moved to London, England, where she lived until her death. She garnered much success with British audiences and became of the most popular entertainers during that period.
By the time the 1960s came around, Hall's stardom faded considerably. Fortunately, during the late 1970s, she resurfaced at the Newport Jazz Festival's production of "Black Broadway.
In 1990, Hall recorded and released three albums: "I Touched a Star," "Hall of Memories," and "Live at the Riverside." She performed in concert at the Queen Elizabeth Hall in 1991 at age 90 in "A Tribute to Adelaide Hall." Hall died in 1993 at the age of 92.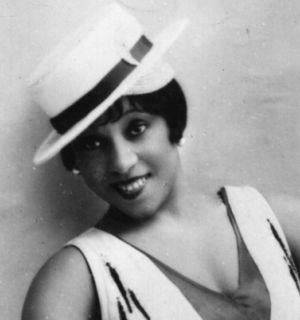 source:
http://artsedge.kennedy-center.org/interactives/harlem/faces/adelaide_hall.html