Freddie King was an American blues guitarist and singer. he is often mentioned as one of the three kings of electric blues guitar along with Albert King and B.B. King.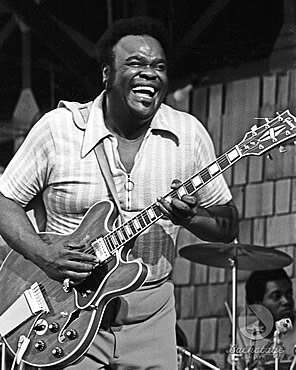 At the age of six, his mother, Ella Mae King, and his uncle began teaching him how to play the guitar. King and his family moved from Dallas, Texas to the south side of Chicago in 1949. In 1952, he began working in a steel mill, the same year, he married Jessie Burnette, with whom he had seven children.
Almost as soon as he had moved to Chicago, King started sneaking into South Side nightclubs, where he heard blues performed by Muddy Waters, Howlin' Wolf, T-Bone Walker, Elmore James, and Sonny Boy Williamson. King formed his first band, the Every Hour Blues Boys, with guitarist Jimmie Lee Robinson and drummer Frank "Sonny" Scott. In 1952, while employed at the steel mill, an eighteen-year-old King occasionally worked as a sideman with such bands as the Little Sonny Cooper Band and Earl Payton's Blues Cats.  His biggest year was 1961, when he placed six singles on Billboard's R&B chart, including four that entered the Top 10.
In 1969, King hired Jack Calmes as his manager, who secured him an appearance at the 1969 Texas Pop Festival, alongside Led Zeppelin and others, and this led to King's being signed to Leon Russell's new label, Shelter Records. The company treated King as an important artist, flying him to Chicago to the former Chess studios for the recording of Getting Ready and gave him a backing line-up of top session musicians, including rock pianist Leon Russell. Throughout 1976, Freddie King toured America, even though his health was beginning to decline. On December 29, 1976, King died of heart failure. Although his passing was premature — he was only 42 years old.
source:
http://www.allmusic.com/artist/freddie-king-mn0000186734/biography
http://www.freddiekingsite.com/bio