William "Gus "Greenlee was a prominent businessman, sportsman, banker, politician, and owner of the Pittsburgh Crawfords, a  Negro National League team. He also owned a stable of boxers, including the first black light heavyweight champion, John Henry Lewis, and ran a popular cabaret, the Crawford Grill.
Greenlee was born in Marion, North Carolina in 1897. He left his home in 1916 after a year of college to travel North to Pittsburgh, where he found work as a shoeshine boy, mill worker, and a taxicab driver. It was after he served overseas in the 367th Army Division during World War I, he began to establish himself as a prominent man in the black community.
The Crawfords were the best-financed baseball team in the sport and featured some of the finest talents to be found. In 1933, acting as the president of the Negro National League, he awarded his team a contested pennant, but in 1935 the Crawfords defeated the New York Cubans in a playoff for an undisputed championship. LeRoy "Satchel" Paige, William Julius "Judy" Johnson, Cool Papa Bell and Josh Gibson all played under Greenlee.
During the Prohibition era, he operated nightclubs as a front for his numbers operations and bootlegging activities, and the Crawford Grill served as the center of activity for jazz, booze, gambling, and girls. In the 1930s he became a power in Pittsburgh's political arena.
Greenlee was also known to be a generous man, giving charitable contributions to the needy. However, the last years of Greenlee's life were spent in a financial woes. White racketeers encroaching on his numbers business, and the federal government harassing him over income taxes owed.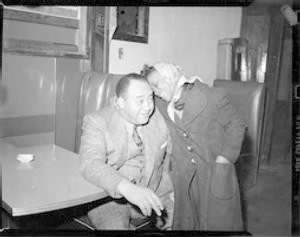 sources:
http://coe.k-state.edu/annex/nlbemuseum/history/players/greenlee.html
https://www.everipedia.com/Gus_Greenlee/