Juanita Moore was a well-known television, film, and stage actress who broke barriers for African-American actors. She was the fifth Black person to be nominated for an Academy Award, and the third to specifically be nominated in the category of Best Supporting Actress category. Moore is most famous for the role she played as Annie Johnson in "Imitation of Life."
Born in Greenwood, Mississippi, her family moved to Los Angeles during the Great Migration. Moore appeared as a chorus girl at the Cotton Club, and she worked as a dancer before her film career. Her first film appearance was as a nurse in the 1949 film "Pinky." As with other black actresses, many of Moore's early roles were as maids. She appeared on Broadway in 1965 in James Baldwin's play "The Amen Corner," and in London in a production of "Raisin in the Sun."  Her role in the remake of Imitation of Life as housekeeper Annie Johnson garnered her a nomination for an Academy Award for Best Supporting Actress and a Golden Globe nomination for Best Supporting Actress in a Motion Picture.
She later married Charles Burris and they were married for 50 years, until his death in 2001. Moore was still acting in 2000, she appeared in the movie "Disney's The Kid," and made guest-starring appearances on Dragnet, Adam-12, ER, and Judging Amy. She also was a member of the celebrated Cambridge Players with other performers including Esther Rolle and Helen Martin. Moore died at her home in Los Angeles on January 1, 2014, from natural causes. She was 99 years old.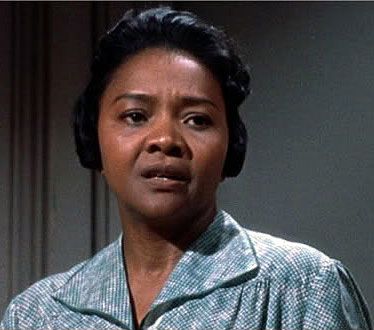 source:
http://www.nndb.com/people/491/000108167/
http://www.rottentomatoes.com/celebrity/juanita_moore/