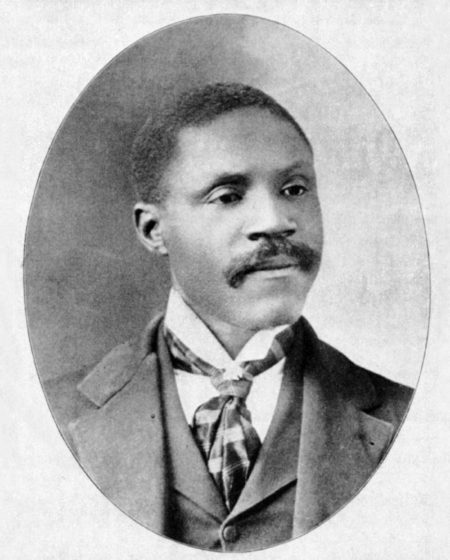 Congressman George Washington Murray was a prominent and influential leader in Republican affairs during the last two decades of the nineteenth century. He became known as the "Republican Black Eagle" and served as a delegate to several Republican National Conventions.
Murray was born a slave near Rembert, Sumter District, on September 22, 1853. Although left an orphan in early childhood, he managed to acquire a basic education in Sumter County's public school system after 1865. He attended the University of South Carolina from 1874 to 1876, when that institution was under Republican control. For nearly fifteen years he taught school in Sumter County.
During the 1880s, he found work as a traveling lecturer for the Colored Farmers Alliance, the black auxiliary of the all-white Farmers Alliance.
In 1892, Murray successfully ran for Congress in the Seventh Congressional District. Serving in the House of Representatives from 1893 to 1897, he was often a legislative Maverick. Murray took his seat in the Fifty-third Congress on March 4, 1893. He immediately focused his efforts on protecting black voting rights in the South at a time when growing numbers of black voters were being excluded from the polls. Murray was also a member of the Committee on Education.
Murray's attention turned to farming and land speculation in the 1900s. He purchased more than nine thousand acres of farmland in South Carolina, primarily in Sumter County. He divided this extensive acreage into smaller tracts, where black tenant farmers grew cotton. By 1902, Murray had two hundred families farming on his properties, which he called his "savings bank."
In 1903, he was accused of forgery from two of his tenants, who claimed their names had been forged on lease agreements by Murray. Murray was convicted by the Sumter County General Sessions Court and received three years of hard labr. His case was appealed but the sentence was upheld.
Murray refused to surrender to state authorities and left the state with his family on the train to Chicago. Once established in Illinois, Murray began a successful career selling life insurance and real estate. He became active in Republican politics in Illinois and was a key black lieutenant of Chicago mayor William "Big Bill" Thompson. Despite a standing arrest warrant, Murray made several discreet visits back to South Carolina. In January 1915, he was finally granted a full pardon by Governor Coleman L. Blease, a Democrat noted for being an extreme white supremacist.
Murray was able to make several secret visits back to South Carolina, despite having an outstanding warrant for his arrest. In January 1915, he was finally granted a full pardon by Governor Coleman L. Blease, a Democrat noted for being an extreme white supremacist. Murray never moved back to South Carolina and died in Chicago on April 21, 1926.
sources:
http://bioguide.congress.gov/scripts/biodisplay.pl?index=M001106
http://www.blackpast.org/aah/murray-george-washington-1853-1926