On June 1, 1921, Black Wall Street was burned to the ground and bombed from the air by groups of angry white mobs fueled by hatred and encouraged by the Ku Klux Klan. Located in Tulsa, Oklahoma, the thriving business district consisted of one of the wealthiest all-Black communities in the nation.
"I have never seen a colored community so highly organized as that of Tulsa. The colored people of Tulsa have accumulated property, have established stores and business organizations and have made money in oil." – W.E.B. DuBois
The violent uprising, which has been referred to as "The Black Holocaust," utterly destroyed the region in a matter of hours. An estimated 300 African-Americans died, 800 were admitted to local hospitals, and 10,000 were left homeless. The riot destroyed the community, as 600 businesses were destroyed, including churches, restaurants, supermarkets, movie theaters, schools, libraries, law offices, private airplanes, post offices, banks, hospitals, and public transportation.
"When we got downstairs, things were burning. My sister asked me, 'Kenny, is the world on fire?' I said, 'I don't know, but we're in a heck of a lot of trouble, baby.'"
Black Wall Street, also known as Little Africa, was the most affluent African-American community in the early 1900s. Although Oklahoma only had two airports, six residents of Black Wall Street owned private planes. During this time, a dollar circulated several dozen times before ultimately leaving the community. Several decades later, a dollar reportedly leaves many majority-Black communities in a matter of minutes.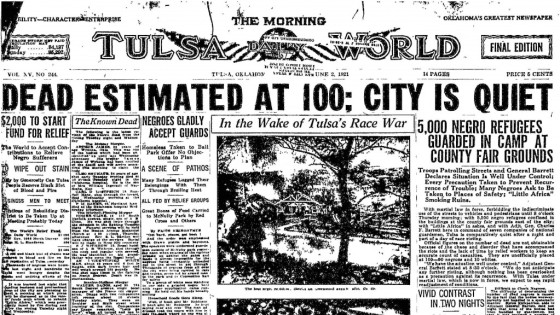 The Tulsa Race Riot of 1921 began after 19-year-old Dick Rowland was accused of assaulting 17-year-old Sarah Page in an elevator she operated. A local newspaper printed stories both about the fabricated rape and that a hanging had been allegedly planned for Rowland that night. Groups of White and Black people converged at the courthouse that night. According to witnesses, a gun was fired, which sparked the deadly riot.
"Get your families out of here because they're killing N****** uptown."
Within 12 hours, 35 city blocks filled with homes and businesses were bombed and torched by envious mobs. Witnesses believe the attacks were planned, as many white Tulsa residents stood towards the outskirts of the area and watched the carnage take place. Only one building of the original Black Wall Street survived the gruesome attack.
A few years later, many residents who chose to remain in the area managed to rebuild a significant part of the district. It continued to be an important African-American community until segregation was overturned by the Federal Government in the 1950s and 1960s, which encouraged black residents to live and shop elsewhere.
Before the Tulsa Race Riot of 1921, the main road that went through Black Wall Street was Greenwood Avenue, which was intersected by Archer and Pine Streets. The R&B Band known as The GAP Band came up with their name from the first letters of each of those roads, the "Greenwood, Archer, and Pine Street Band." The nucleus of the group consisted of brothers Ronnie, Robert, and Charlie Wilson, who were born and raised in Tulsa, Oklahoma.
One of The GAP Band's most successful songs performed by the group was "You Dropped a Bomb on Me," written by Lonnie Simmons, Rudy Taylor, and Charlie Wilson, the principal songwriters of the group. It's obtained much success as a soundtrack favorite, as it was featured in films such as "Next Friday" and "Brooklyn Rules." It's been played at Jacksonville Municipal Stadium, Oklahoma Bethany Broncos Football Stadium, as well as baseball events at Shea Stadium, Reynolds Stadium, McKethan Stadium, and Citizens Bank Park.
According to SongFacts.com, the song was inspired by a breakup that blindsided someone:
"This is a popular feel-good dance song, but it's actually quite heart-wrenching: the girl meant everything to the singer ('You were my pills, you were my thrills, you were my hope, you were my smoke'), but then she 'Turned me wrong.' So the 'bomb' is not a good thing – more likely a breakup that came out of nowhere and devastated the poor guy."
However, despite the above explanation, many believe that the inspiration for this popular song came from the Tulsa Race Riot of 1921, the horrific bombing of Black Wall Street.
On Tuesday, March 15, join Black Then to find out more about The Real Black Wall Street. In this film, the true history of Black Wall Street and the aftermath of the Tulsa Race Riot of 1921 will be deeply explored. Learn more about the rise and fall of one of America's most prosperous Black communities.
Sources:
http://www.songfacts.com/detail.php?id=17320
http://www.solomonsimmons.com/charlie-wilson-you-dropped-the-bomb-on-me