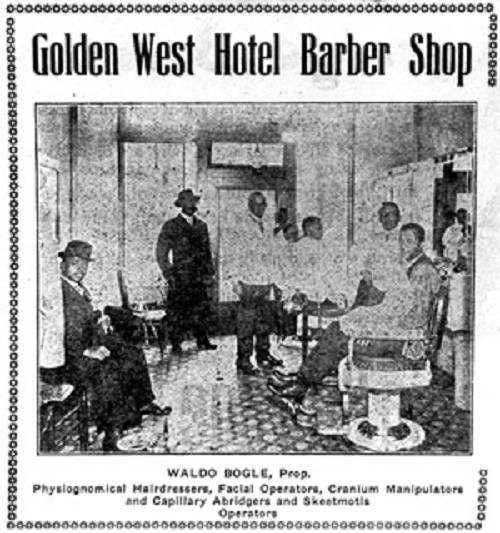 The Golden West Hotel, located at Northwest Broadway and Everett Streets in Portland, was the first hotel in the city to accommodate African American patrons.
For twenty-five years, from 1906 through 1931, it was a social center and a focal point of the black community, a place for African Americans of all ages to gather and socialize in a segregated and largely unfriendly city.
The lower floors of the hotel, consisted of several black-owned businesses, including a bar, a barbershop, and ice cream parlor.
Entrepreneur William G. Allen bought the property in 1905 and opened the 100-room Golden West a year later to provide accommodations for those who worked for the railroads as porters, cooks, and waiters, the primary source of employment for black men in Portland. Other hotels in the city did not allow African American patrons, so the Golden West was a necessity for traveling railroad workers.
The Golden West hosted activities that ranged from after-church gatherings to a gambling den in the basement. Freddie Keppard's Original Creole Orchestra performed there in 1914, in what might have been the first performance of jazz in Portland.
The closure of the Golden West in 1931 was a consequence of the Great Depression. When railroad workers lost their jobs during the Depression, many black businesses that had relied on their patronage could not survive. Allen sold the building when he closed the hotel, and in 1933 it was bought by Catharine Byrd, who reopened it as the New Golden West Hotel. She closed the hotel and sold the building in 1935. The property changed hands several times until 1943, when it became the Broadmoor Hotel, a low-cost housing development that existed until 1984.
sources:
https://oregonencyclopedia.org/articles/golden_west_hotel/#.WmD3kjdG2M8