BY NICOLE EMANUEL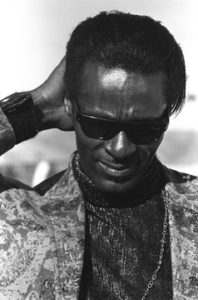 Chuck Berry known for his aggressive guitar playing and 'Johnnie B Good' hit single, was famously known as the "Father of Rock 'n' Roll." Tom Leonard of the Daily Mail in New York said that Chuck Berry's defiant tone in many of his songs described Berry's rebellious frame of character. Berry often spoke of being a victim of racism, which would not have been unheard of early in his life. Berry's parents were the grandchildren of slaves and were among blacks who migrated from the rural south to St. Louis in search of work, and this is where Berry was born.
When Berry was 17, he and two of his friends drove to California, where Berry brought a broken pistol. In California, they went on an armed robbery spree where Berry had his first run-in with the law. They were responsible for holding up local businesses and stole a replacement car; not stopping until they got caught by the police. Berry was then sentenced to ten years, and he ended up only serving three years in a reform school.
Later, when Berry was 33, he was convicted under a law prohibiting the transportation of women or "girls" across state lines for 'immoral' purposes, which his friends say was a life defining moment for Berry. He had been accused of having sex with Janice Escalante, who was a 14-year-old Apache waitress. He met Escalante when he was in Mexico, where he then took her on tour with him, later taking her home with him to Missouri. Escalante was going to work in the cloakroom of Berry's nightclub. Several weeks later Berry slept with Escalante and she went to the police. Throughout the crusade, it surfaced that Escalante had worked as a prostitute, but that didn't work in Berry's favor because the bottom line was that she was a child. Berry was tried in front of an all-white male jury; he was characterized as a sex predator. Ultimately, Berry ended up serving 20 months in prison.
Berry was released in 1964, and Carl Perkins who was a singer and musician said that "he'd never seen a man so changed." Perkins toured with Berry in Britain shortly after his release. It appeared things were quiet for quite a while, and then in 1979, after Berry was honored by President Jimmy Carter at the White House, he was ordered to spend a short 120-day stint in jail for tax evasion and for filing false returns. Berry had avoided paying $109,000 in taxes in 1973 alone, which would be equivalent to $600,000 today. He was sentenced to a minimum security prison in California, where he wrote most of his autobiography. Berry admitted that about every 15 years he would make a big mistake, and in his memoirs, he lightly dismissed his criminal behavior as his 'naughtiest.'
It doesn't end there either. In 1987 another 'big mistake' transpired. He was arrested on assault charges in New York. A woman claimed Berry had beaten her up. He admitted to harassment and was fined $250. Three years later, Berry's in his 60's and there is one final scandal. The husband of one of Berry's employees out of his restaurant in Missouri accused him of being a "peeping tom" after a hidden camera was found in the women's toilet. Berry admitted that he installed the camera after suspicion of an employee stealing from the restaurant arose, but several women sued and they accused him of installing the camera for improper purposes: "for the gratification of his sexual fetishes."
Berry never admitted fault, but he did settle by paying off 58 women in a class action lawsuit, which cost him $1.2 million plus heavy legal fees. Shortly after, his home was raided by the police and they found guns, drugs, and videotapes of women using the restroom, on top of that underage girls in sexual poses. Berry dodged what could have been serious child sex abuse charges, because of his prosecutor was involved in a separate scandal. And because Berry solely admitted to the possession of the marijuana, and he got away with a six-month suspended prison sentence.
Chuck Berry had a wild side, 'Father of Rock n Roll', a savage beast on the guitar, a legend with a side of rebellion.
Read more of the original story via: http://www.dailymail.co.uk/news/article-4330112/Chuck-Berry-Jailbird-indecent-taste-scandal.html
Photo Credit: Rolling Stone Years