The Sapphire Caricature portrays black women as rude, loud, malicious, stubborn, and overbearing.1 This is the Angry Black Woman (ABW) popularized in the cinema and on television. She is tart-tongued and emasculating, one hand on a hip and the other pointing and jabbing (or arms akimbo), violently and rhythmically rocking her head, mocking African American men for offenses ranging from being unemployed to sexually pursuing white women. She is a shrill nagger with irrational states of anger and indignation and is often mean-spirited and abusive. Although African American men are her primary targets, she has venom for anyone who insults or disrespects her. The Sapphire's desire to dominate and her hyper-sensitivity to injustices make her a perpetual complainer, but she does not criticize to improve things; rather, she criticizes because she is unendingly bitter and wishes that unhappiness on others. The Sapphire Caricature is a harsh portrayal of African American women, but it is more than that; it is a social control mechanism that is employed to punish black women who violate the societal norms that encourage them to be passive, servile, non-threatening, and unseen.
Today, the Sapphire is one of the dominant portrayals of black woman. This is evident by the words of Cal Thomas, a commentator for FOX Television: "Look at the image of angry black women on television. Politically you have Maxine Waters of California, liberal Democrat. She's always angry every time she gets on television. Cynthia McKinney, another angry black woman. And who are the black women you see on the local news at night in cities all over the country. They're usually angry about something. They've had a son who has been shot in a drive-by shooting. They are angry at Bush. So you don't really have a profile of non-angry black women, of whom there are quite a few."("Transcript: Fox", 2008)Thomas, admittedly an untrained sociologist, expressed what many Americans see and internalize, namely, images of Sapphires: angry at black men, white men, white women, the federal government, racism, maybe life itself. Thomas, shortly after making his statements about black women, agreed with a co-panelist that Oprah Winfrey is not angry.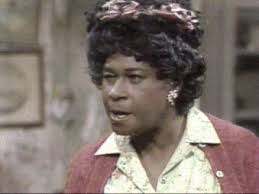 The portrayal of black women as angry Sapphires permeates this culture. A Google search of Angry Black Women or ABW will demonstrate how pervasive this caricature has become. She lives in most movies with an all-black or predominantly black cast. For example, there is Terri, cussing and insulting the "manhood" of black men in Barbershop (Brown, Teitel, Tillman & Story, 2002) and its sequel, Barbershop 2 (Gartner, Teitel, Tillman & Sullivan, 2004). There is the augmentative Angela in Why Did I Get Married (Cannon & Perry, 2007).