BY WALTER OPINDE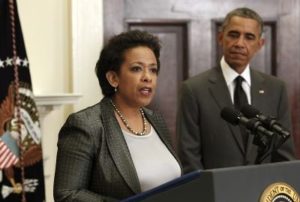 On this day, 21st May 1959, a great African-American woman politician, full of charisma and leadership capabilities, Loretta Lynch, was born. Loretta Lynch, on 27th April, 2015, entered the American historical records as the first black woman to be appointed as the U.S. Attorney General, under President Barack Obama's administration. She was, however, serving as the 83rd U.S. Attorney General, preceded by Attorney Eric Holder, and finally succeeded by Jeff Sessions (incumbent) of the ongoing President Trump's administration, on 9th February, 2017.
Loretta had previously served as the United States Attorney for the Eastern District of the New York during President Clinton's administration, from 1999 to 2001, and also under President Obama's administration from 2010 to 2015 when she was appointed the U.S. Attorney General. Serving as a District Attorney, Loretta oversaw a number of federal prosecutions including those of Long Island, Staten Island, Queens, and Brooklyn.
Born 21st May 1959, in Greensboro, North Carolina, Lynch underwent her early education levels, and later attended the Harvard Law School where she earned her Bachelor's Degree in 1984. Upon the completion of her education, she started working as a litigator for private law firms before she became a prosecutor at the U.S. Attorney's office in the Eastern District of New York. Eventually, Loretta later hit the new headlines for her role as a senior prosecutor in the infamous 1997 Abner Louima's case on police brutality.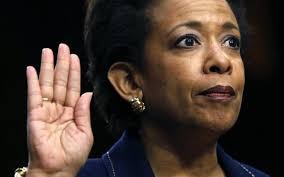 Between 2003 and 2005, Loretta Lynch served as a board member at the Federal Reserve Bank of New York. Later, on 8th November, 2014, she was nominated to succeed Attorney Eric Holder. On 26th February, 2015, the U.S. Senate's Judicial Committee recommended Lynch's confirmation by 12 against 8 votes; with three Republicans and all Democrats in her favor. Come 23rd April, the same year, Loretta was confirmed, 56 against 43 votes, by the Senate, making beat records as the second woman, second African-American, and the first Black woman to be confirmed for this position. She was later sworn in on 27th April, 2015 by the V. President Joe Biden.
During her service at the Eastern District of New York as the U.S. Attorney, Lynch supervised the investigations on the senior FIFA officials from the early stages. Shortly after Loretta was confirmed as the U.S. Attorney General, the investigation culminated with the indictment of the sports marketing executives and 14 senior FIFA officials. Due to her outstanding work in the investigation and prosecution of corruption in the 2015 FIFA case, Loretta was awarded the Third Annual Golden Blazer by Michael Davies and Rogers Bennett.
Loretta Lynch is currently married to Stephen Hargrove, mothering two stepchildren from Hargrove's previous marriage.
"Read more of the original story via: http://www.biography.com/people/loretta-lynch"
Sources
Loretta Lynch, Federal Prosecutor, Will Be Nominated for Attorney General". The New York Times. November 7, 2014.