Melba Doretta Liston was the first woman trombonist in the big band jazz era. An acclaimed big band jazz music arranger, her popular arrangements are infused with African beats and rhythms. During the course of her career, Liston worked with many jazz greats, including Dizzy Gillespie, Billie Holiday, John Coltrane, and Count Basie.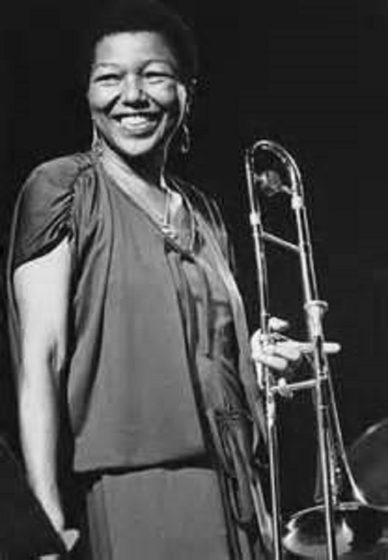 Liston was born in Kansas City, Missouri, in 1926. At the age of seven, her mother purchased her a trombone. Her family was very encouraging of her musical pursuits, as they were all music lovers. Liston was primarily self-taught, but was often encouraged by her guitar-playing grandfather, with whom she spent a significant amount of time learning folk songs and spirituals. About a year later, she was already good enough to perform solos on the local radio station. When she was ten, she moved to Los Angeles and started to become involved in youth bands.
By the mid-1940s, she started working with the up-and-coming musicians of the bebop scene. Eventually, Liston toured with Count Basie and Billie Holliday. However, she grew tired of the indifference of their public and the rigors of life on the road. Ultimately, she gave up performing music and turned to education. She took a clerical job and often worked as an extra in Hollywood, appearing in several films.
In 1971, she was chosen as Musical Arranger for a Stax Records recording artist named Calvin Scott, whose album was being produced by Stevie Wonder's first producer, Clarence Paul. On this project, she worked with Joe Sample and Wilton Felder of the Jazz Crusaders, blues guitarist Arthur Adams, and jazz drummer Paul Humphrey. Due to the financial issues at Stax Records when the album debuted in 1972, it was unsuccessful on the charts; nevertheless, Liston's arrangements on the album are believed to be some of her finest work.
The following year, she moved to Jamaica and was an instructor at the Jamaica School of Music for six years. While in Jamaica, she composed and arranged the music for the 1975 classic film Smile Orange, Liston's only known venture into composing reggae music. She eventually returned to the United States and led her own bands.
In 1985, Liston suffered a stroke that left her partially paralyzed; it was then that she was forced to give up playing music. Two years later, she was awarded the "Jazz Masters Fellowship" of the National Endowment for the Arts. Melba Liston died in Los Angeles in 1999.
sources:
https://www.arts.gov/honors/jazz/melba-liston
http://thegirlsintheband.com/2013/11/melba-liston/