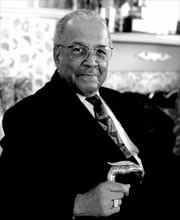 During the late 1950's and 60's Rev. Claude Black led and organized marches throughout the state of Texas. He often challenged various establishments for their unfair treatment of minorities.
Black was born in San Antonio to C.W. and Cora Black. He graduated from Douglass High School in 1933 and later enrolled in St. Philip's College and transfers two years later to Morehouse College in Atlanta where he earned a  bachelor's degree in 1937.
After graduation, Black worked selling insurance for three years in Marshall and San Antonio before attending Andover Newton Theological Seminary in Massachusetts. Once he completed his studies, he returned to San Antonio, where he began Sunday services in the Cameo Theater.
A few years later, he founded the San Antonio Mother's Service Organization, which was the first black group of Christian women to receive a Texas state charter for a local club.
Black began his work for the civil rights movement in the 1950s. On March 13, 1960, he addressed an anti-segregation rally, along with the president of San Antonio's NAACP branch, and gives the city an ultimatum: integrate lunch counters by the 17th or prepare for sit-down protests. With the help of a group of local leaders, the counters are integrated by the 16th, and San Antonio becomes the first major city in the South to do so without demonstrations.
He served as a close local ally to President Lyndon B. Johnson, Black was present for the White House Conference on Civil Rights in 1966. During this time, he endured many threats to his life, family and church. A drive-by shooting occurred on his home. The church where he was serving as pastor was burned in 1974 with no suspects ever being charged
Black served four terms on the San Antonio City Council in the 1970s and became the city's First Black Mayor Pro Tem. During Black's active years, he founded several community groups as well as the city's first black credit union. In 1995, he was appointed as a delegate to the White House Conference on Aging by President Bill Clinton.
sources:
http://www.claudeblack.org/biography/