Rudy Ray Moore was a comedian and actor played a major role in 1970s Blaxploitation cinema, as the legendary comic pimp, Dolemite. He got his start in Cleveland two decades earlier, while hanging out with a performer named Estella Caldonia Young at the old Majestic Hotel on East 55th.
Moore was born and raised in Fort Smith, Arkansas, and eventually moved to Cleveland, Ohio, and then Milwaukee, Wisconsin. In Milwaukee, he preached in churches and worked as a nightclub dancer. He returned to Cleveland, working in clubs as a singer, dancer, and comedian, often appearing in character as Prince DuMarr.
He joined the US Army and served in an entertainment unit in Germany, where he was nicknamed the Harlem Hillbilly for singing country songs in R&B style. He developed an interest in comedy in the Army after expanding on a singing performance for other servicemen.
After his discharge, Moore lived in Seattle, Washington and then Los Angeles, where he continued to work in clubs and was discovered by record producer Dootsie Williams. Moore was influenced by more mainstream comedians such as Redd Foxx and Richard Pryor, as well as by traditions such as the Dozens. The recordings were usually made in Moore's own house, with friends in attendance to give a party atmosphere. Moore spent most of his earnings from the records to finance the movie Dolemite, which appeared in 1975 and has been described as "one of the great blaxploitation movies" of the 1970s. On October 19, 2008, Moore died in Akron, Ohio, of complications from diabetes.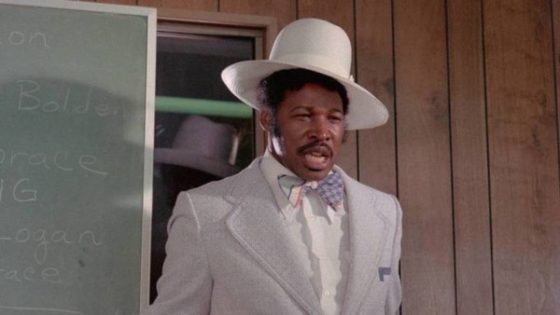 sources:
https://www.rogerebert.com/balder-and-dash/rudy-ray-moore-blaxploitation-classic-dolemite-comes-to-blu-ray