Sarah Lois Vaughan was an American jazz singer, described by music critic Scott Yanow as having "one of the most wondrous voices of the 20th century." Nicknamed "Sassy" and "The Divine One," Sarah Vaughan was a Grammy Award winner.
Vaughan was born on March 27, 1924 in Newark, New Jersey, as the only child to Asbury Vaughan and Ada Vaughan. Her father was a carpenter and mother worked as a laundress. During World War I, the Vaughan family relocated from Virginia to Newark.
As a young girl, Vaughan developed an early love for popular music on records and the radio. In the 1930s, Newark had a very active live music scene and Vaughan frequently saw local and touring bands that played in the city at venues like the Montgomery Street Skating Rink.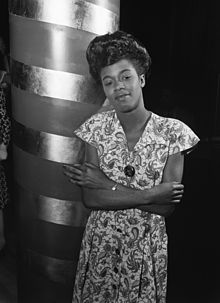 She attended East Side High School, and later transferred to Newark Arts High School. As a teenager, she began often snuck into Newark's nightclubs to perform as a pianist and a singer at various venues, including the Piccadilly Club and the Newark Airport USO.
Vaughan began her solo career in 1945 by freelancing in clubs on New York's 52nd Street, such as the Three Deuces, the Famous Door, the Downbeat, and the Onyx Club. Vaughan often hung around the Braddock Grill, which was next door to the Apollo Theater in Harlem.
On May 11, 1945, Vaughan recorded "Lover Man" for the Guild label with a quintet featuring Dizzy Gillespie and Charlie 'Bird' Parker, along with Al Haig on piano, Curley Russell on double bass, and Sid Catlett on drums.
In the late 1950s, Vaughan began touring and ended up following a very strict non-stop tour with many famous jazz musicians. She was featured at the first Newport Jazz Festival in the summer of 1954, and frequently starred in subsequent editions of that festival for the remainder of her life. In the fall of 1954, she performed at Carnegie Hall with the Count Basie Orchestra on a bill that also included Billie Holiday, Charlie Parker, Lester Young and the Modern Jazz Quartet.
Vaughan remained active as a performer during the 1980s. During this time, she started to receive awards for her contribution to American music and status as elder stateswoman of jazz. In 1989, she was honored with a Lifetime Achievement Grammy, and in 1990, she was selected to join the Jazz Hall of Fame. She also received a star on the Hollywood Walk of Fame.
Vaughan's final concert was given at New York's Blue Note Club in 1989. Sarah Louis Vaughan died in 1990, she was 66.
sources:
http://www.biography.com/people/sarah-vaughan-9516405#!
http://www.imdb.com/name/nm0891098/bio