The murder of a slave was always a property loss to the owner; it was rare for someone other than the slave's owner to kill him or her. However, there were times when a white community banned together and insisted on the execution of a slave rather than preserving the owner's property.
During 1857, in Ashley County, Arkansas, a slave lynching occurred. It was reported that Ms. Hill, a widow who lived near the town of Berlin, and an unidentified slave woman were murdered by two black men. After the murder, the house was set on fire and the bodies burned.
It was reported that the widowed Hill was alone and sick, and her neighbor, J.L. May, sent a slave woman to help care for her. Days later, a white man named Miller and two slaves entered the house to violate and murder the widow. The slave woman tried to escape, but was killed before she could leave the property. She was then returned to the house, which the killers then set on fire.
The next day, all the area's slaves were brought together in attempt to find the perpetrators. One of the slaves panicked, took his master's horse, and escaped. He was captured the following day and confessed, naming Miller and another slave as accomplices.
The slaves were taken back to where the murders had occurred and were burned at the stake. Miller was present at the lynching, and the slave who confessed wanted him to confess to his role in the rape and murder. Miller was later chased down and presumably murdered.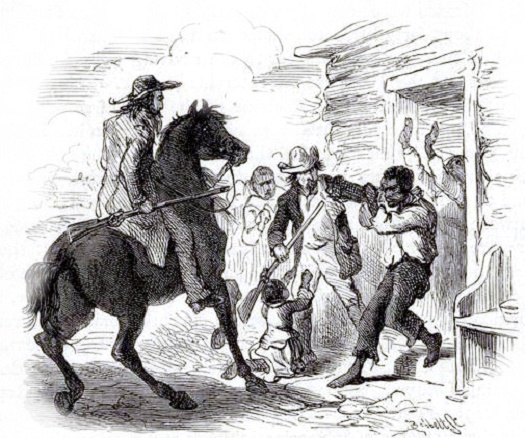 source:
http://www.encyclopediaofarkansas.net/encyclopedia/entry-detail.aspx?entryID=7993